By Per Nyberg
CNN





(CNN) -- Thieves using a helicopter and explosives staged an elaborately planned, early-morning raid on a cash depot in Stockholm, Sweden, making off with bags filled with money, police said Wednesday.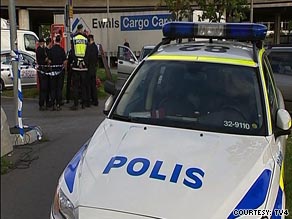 The police search was delayed by a bag marked "bomb" which was left outside the police heliport.
A helicopter landed on the roof of the G4S cash depot in Vastberga, in the southern part of Stockholm, shortly after 5 a.m. (11 p.m. ET), Swedish police said.
Witness Bjorn Lockstrom first heard three loud bangs as the thieves used explosives to get into the building, he told Swedish CNN affiliate TV4.
"Then I saw two men hoisting themselves down into the building," Lockstrom said. "Just minutes later, I saw how they hoisted bags of money up to the helicopter on the roof."
The burglary happened only days before the 25th, the day every month when Swedes receive their monthly salary, so the depot was rife with cash.
The cash depot serves automatic teller machines all across Stockholm, TV4 reported.
Sources told TV4 the thieves could have gotten their hands on several hundreds of millions of kronors, the equivalent of tens of millions of U.S. dollars.
TV images from the scene showed a gray helicopter circling the building and then flying away. The thieves flew south after they had loaded the helicopter with the bags, according to a statement from police.
One person was taken into custody later in the day, a spokesman for the Stockholm Police told a news conference Wednesday afternoon.
"The individual was arrested by police in a Stockholm suburb today," he said.
Don't Miss
The person is currently being questioned. Police would not go into details of the individual's role in the drama, according to TV4. Nor have they disclosed how much cash they believe was taken.
The helicopter was a Bell 206 Jet Ranger and had been stolen earlier during the night.
Swedish police couldn't pursue the thieves because a bag marked "bomb" had been placed outside the police heliport, and officers had to deal with the bag before they could enter the heliport.
It is unclear whether the bag contained a bomb.
The thieves also had blocked the roads around the cash depot with metal rods, TV4 reported.
No one was hurt during the burglary, police said. The area around the building was sealed off as authorities interviewed witnesses.
"A substantial reward is being offered for information leading to the arrest and conviction of those responsible and recovery of the stolen money," Alison Flynn, media relations manager for G4S, told CNN.
E-mail to a friend

CNN's Abbi Tatton contributed to this report.
All About Sweden