LONDON, England (CNN) -- The director of public prosecutions in Britain issued a new policy on assisted suicide Wednesday, making clear at what point he believes people should face charges if they help a loved one go abroad to die.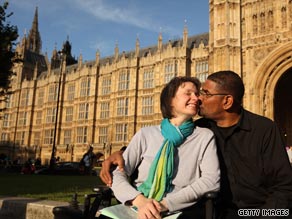 The director of public prosecutions was ordered to issue the guidelines following a case brought by Debbie Purdy, pictured here with her husband Omar Puente.
The issuing of the policy is a direct result of a high-profile case brought by British multiple sclerosis sufferer Debbie Purdy, who had sued to find out what would happen to her husband under the law if he helped her to end her life.
Purdy's case reached the Law Lords, Britain's highest court, and in July they ordered the Director of Public Prosecutions (DPP) to spell out the criteria under which he would prosecute someone who helps another person commit suicide.

Watch Purdy react to the ruling »
The policy issued Wednesday is an interim one, subject to a 12-week public comment period, DPP Keir Starmer said. He said he would consider public opinion and issue a final policy in the spring.
"Assessing the public interest is not simply a matter of adding up the number of factors on each side and seeing which side of the scales has the greater number," Starmer said in a statement. "Each case must be considered on its own facts and its own merits. Prosecutors must decide the importance of each public interest factor in the circumstances of each case and go on to make an overall assessment."
Should people be prosecuted for helping someone to commit suicide? Have your say below
In cases of assisted suicide, the new policy would allow the person's loved ones to be prosecuted if the person was younger than 18 or had a mental illness or learning difficulty that prevented them from making an informed decision.
They would also face prosecution if the person did not have a terminal illness, a severe and incurable physical disability, or a severe degenerative physical condition from which there was no possibility of recovery.
Loved ones would also risk prosecution if the person had no "clear, settled and informed wish" to commit suicide -- for instance, if their history shows their wish was temporary or subject to change.
A person would have to indicate "unequivocally" to their loved ones that he wanted to end his life, and must personally ask, on his own initiative, for assistance in doing so, the new policy states. Otherwise, the loved ones risk prosecution.
Loved ones would have to be "wholly motivated by compassion," with nothing to gain from the person's death, and are not allowed to have "persuaded, pressured, or maliciously encouraged" the person to commit suicide.
The list does not seem to allow for assisted suicide in cases where a person has a mental illness, such as depression, that does not prevent them from making informed decisions but is nevertheless a reason the person wants to end his life.
A spokesman for the Crown Prosecution Service said the new policy is not a "checklist" and that not all the factors must apply to a particular case, leaving Starmer discretion on whether to prosecute.
"There are also no guarantees against prosecution," Starmer said in the statement, "and it is my job to ensure that the most vulnerable people are protected while at the same time giving enough information to those people, like Ms. Purdy, who want to be able to make informed decisions about what actions they may choose to take."
Dignity in Dying, a non-profit group that campaigns for more choice and services at the end of a person's life, said the new policy was "sensible" and draws a distinction between compassionate and malicious acts in relation to assisted suicide.
"The overwhelming majority of us do not want to see people prosecuted when they have reacted compassionately to a loved one's request for help to die," said Sarah Wootton, the chief executive of Dignity in Dying.
The policy, she said, "formally recognizes that in certain circumstances people should not be prosecuted for helping somebody die. It doesn't change the law, which is a job for Parliament, (but) what it does do is clarify how the law will be implemented."
Under current law, assisting a suicide is a crime punishable by up to 14 years in prison in England and Wales. As a result, many travel abroad to foreign clinics, like those in Switzerland, where assisted suicide is permitted.
But when their relatives return to Britain, they still face the risk of prosecution. The law does not make clear at what point they have broken the law -- whether by accompanying their loved one to the clinic, opening the door of the car to the airport, or helping them to arrange the trip.
No one has ever been prosecuted for the crime in the United Kingdom.
Purdy spent more than two years fighting her case in Britain's courts, arguing that the lack of clarity in the law violated her human rights. She said she wants the option to end her life should her symptoms one day become too much to bear.

But at such an advanced stage of illness, Purdy would require the help of her husband, Omar Puente, in order to take the final step. Purdy wanted the law clarified so she would know at what stage Puente risked prosecution -- thereby sparing him any criminal penalties.
"I am relieved that common sense has won the day," Purdy said in a statement issued by Dignity in Dying. "I, and many others like me, want to be able to make informed decisions about the time and manner of our deaths should our suffering become unbearable. We want to know whether someone we love will be prosecuted for helping us to die, even if that assistance is simply being with us at the end. Today, and thanks to the Law Lords and the DPP, we can make these decisions in the knowledge of what the likely consequences will be."
E-mail to a friend