(CNN) -- Ireland has voted in favor of the Lisbon Treaty, which would modernize the structure of the European Union, according to official government results released Saturday.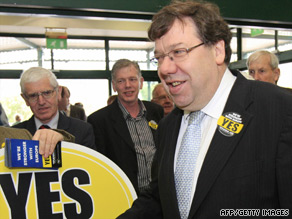 Prime Minister Brian Cowen gets out the 'vote yes' message in Tullamore.
The agreement passed 67.13 percent to 32.87 percent.
A "yes" vote had been anticipated in the Friday referendum for the controversial plan.
Irish Prime Minister Brian Cowen proclaimed victory as the votes were counted Saturday, saying, "we have done the right thing for our own future and the future of our children."
"Today the Irish people have spoken with a clear and resounding voice. This is a good day for Ireland and a good day for Europe. We as a nation have taken a decisive step for a stronger, fairer and better Ireland, and a stronger, fairer and better Europe," Cowen said.
"We will now work with all our partners in ensuring that the reforms this treaty will bring are implemented. The Irish people have supported reforms so that the EU can become more efficient and more effective in dealing with the global problems we all face.
"Challenges such as climate change, energy, international crime and, of course the economic difficulties in which we find ourselves now. This is what the European Union is all about -- states working together to achieve the common good."
Don't Miss
Declan Ganley, leader of the Libitas Party, which campaigned for a "no" vote, conceded defeat, offering his congratulations to Cowen.
"I'm not saying I admire the campaign that said that there would be jobs and economic recovery from a yes vote, but I politically admire a masterful campaign from a masterful politician who has made absolute glove puppets out of the opposition," he told local broadcaster RTE.
The agreement -- drawn up after the EU expanded to 27 members, with most of the new member states coming from Eastern Europe -- had been already rejected once by Irish citizens.
Just more than half, 53 percent, of Irish voters said "no" to the Lisbon Treaty in June 2008, throwing the future structure of the European Union into doubt. All member states have to ratify the treaty before it can be adopted.
The European Union had assured Ireland that the treaty would not affect the country's anti-abortion laws or its neutrality and that Ireland would keep a European commissioner.
Ireland is the only EU member whose citizens were allowed to vote on the treaty; national parliaments ratified the treaty elsewhere.

To date, only Poland and the Czech Republic have held up the final passage of the treaty in their own countries.
Ireland's constitution mandates that citizens be allowed to vote on any major changes to its own governmental structure.
E-mail to a friend

CNN's Brooke Bowman and Barry Neild contributed to this report.
All About European Union • Ireland