By Grace Wong
For CNN





LONDON, England (CNN) -- Richard Sharp had a problem with grapes. The ones growing in his garden were going to waste -- and he didn't like it.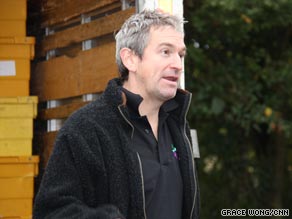 Backyard bounty: The collective has extended well beyond Richard Sharp's neigborhood in South London.
It wasn't just the thought of grapes in his garden going to waste that bothered him, but the fact that it was happening in backyards across his neighborhood in South London.
When life gives you grapes, what are you to do? The urban dweller's solution: Make your own wine -- and get your friends and neighbors involved.
The epiphany Sharp had led to the creation of The Urban Wine Company, a London-based collective of growers committed to making wine with their own grapes.
"It's about reducing waste and sustainable living," Sharp explained amid the commotion of the collective's annual harvest. "It's quite zeitgeist," he said.
The co-operative is part of a growing urban agricultural movement in London, where demand for allotments -- plots of land that individuals can rent to grow fruit and vegetables -- far outstrips supply.
The changes to Britain's edible landscape have sprouted out of concerns about the environment and healthy living, and city dwellers like 44-year-old Sharp have been inspired to do what villagers in the countryside have done for years: Grow and harvest their own.
Despite Britain being associated with damp and wet weather, vines thrive in many parts of the country, according to Sharp. In many respects, London is particularly well-suited for grapes. Climate change has raised temperatures, and cities tend to trap heat, making them warmer than rural areas, he said.
Lugging bags and crates of freshly picked grapes, growers from all corners of the city convened in the parking lot of a local park on Saturday to drop off their crop.
Among those bringing in the bounty of their backyard were Colin and Ann Warner. They received their vine as a gift six years ago and once tried making a bottle of wine on their own at home, but never even uncorked it.
This time around, as part of the collective, they're more optimistic. "Hopefully it'll be good," Ann said.

See photos from the harvest »
Individual producers like the Warners benefit from the scale of the collective, which partners with a professional vineyard to produce the wine from the grapes of each year's harvest.
Despite the early morning and the first chill of autumn setting in, the crowd hummed with energy.
As they waited their turn to place their grapes on the scale, many growers mused about this year's vintage: Would it be red, white or rose? Would the fairly dry and hot early months of summer pay off with a wine worth savoring?
Producers receive six bottles of wine in March as part of their £65 (roughly $100) membership fee. Those who turn in a particularly bumper crop can buy additional bottles for a small price.
Sharp was in constant motion, greeting growers -- many of them by first name -- weighing crates of grapes and loading them on to the van in which they would be transported to a vineyard in Sussex to be pressed and bottled.
Interest in The Urban Wine Company has been soaring, according to Sharp. Membership is close to reaching 200 and this year's harvest -- the collective's third -- is expected to yield about a ton of grapes.
The outpouring of interest is a sign the endeavor has really made a connection with urban residents, he said.
To be sure, there's the environmental aspect. "If you plant new vines, you're eliminating carbon," Sharp said. But "at the same time you're harmonizing community relationships."
James Tyler, who had his three young children in tow, discovered his vine when he bought his house and pruned back the overgrown garden.
Besides harboring ambitions to own his own vineyard one day, Tyler said he wanted his children to have a grow-your-own experience. They plan to name their wine -- members can customize their own label -- Chateau Tyler.
"To be able to grow our own and drink our own would be fantastic," but there's also been a real sense of community that's come out of the experience, said Marcella Grazette, who along with her mother and 7-year-old niece, toted two full crates of grapes.
In addition to providing guidance on growing and planting grapes (a vine is supplied to members who don't already have one), Urban Wine arranges wine tastings, trips to vineyards and other events that bring growers together.
Since Urban Wine started an as independent neighborhood project, its network has expanded to include producers from across the city and even into greater London.
Sharp manages the growing venture on top of writing, working in regeneration, and being the father to three children -- "That's why I have gray in my hair," he explained with a laugh.

As he sees it, besides building community spirit and cutting down on waste, there's another huge benefit of the collective: The potential to produce a really great wine -- one that consumers will want to buy.
"That's the real test," he said. How far they have to go is something he and the rest of the members of the Urban Wine Company will have to wait until March to find out.
E-mail to a friend

All About Nature and the Environment • Global Climate Change • Wine