ROME, Italy (CNN) -- Italy's top court has overturned a law that shielded Prime Minister Silvio Berlusconi from possible prosecution.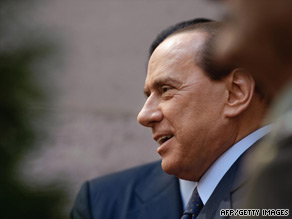 Berlusconi remains a popular leader among Italians with approval ratings over 50 percent.
The flamboyant prime minister pushed the law through after he returned to power in 2008, but legal authorities in the city of Milan challenged it in the Constitutional Court.
The ruling potentially opens the way for the billionaire prime minister to face charges of bribery, influence peddling and tax fraud -- but it is unlikely the court verdict itself will force him to resign.
Berlusconi, 73, is accused of paying $600,000 to British lawyer David Mills to give false testimony during trials in the 1990s. Both men deny the charges.
The prime minister is no stranger to trials and investigations. Since he took office in 1994, he has been tried 17 times on charges that have included corruption, false accounting and tax fraud.
Berlusconi accuses magistrates of conducting a witch hunt against him and points out that he has never been convicted.
Critics, however, say the prime minister has used his position to change laws to escape prosecution. The ruling Wednesday strikes down one of those laws.
"It's a political ruling, but ... Berlusconi, the government and the majority will continue governing, as the Italian people have asked them to do with their votes in every occasion since April 2008," Berlusconi spokesman Paolo Bonaiuti said in a statement posted on the Web site of Berlusconi's Il Popolo della Liberta party.
Don't Miss
And Berlusconi told reporters, "We are going forward. We've ruled without the lodo (law) before and will continue. And thank God there is Silvio, because otherwise the Italians will be in the hands of these leftists.
"We go forward. I will go to the trials that touch them and uncover all of their lives. Viva I'Italia and viva Berlusconi."
Opposition leader Lanfranco Tenaglia, meanwhile, said in a statement posted on the Partito Democratico Web site, "Justice has been done. The constitutional court confirms itself as an island of reason. ... As we have said from the beginning, the Alfano law is an unjust law and an illegitimate one that was finally canceled with a clear technical decision."
The law was designed to shield from prosecution the country's president, its prime minister, and the heads of both houses of parliament.
The Constitutional Court found the law violated Section 3 of the constitution, which requires that all Italians be equal before the law, and Article 138, which says laws must be consistent with the constitution, the court's press office said in a statement.
The 15-judge court may reveal more about its decision-making process in the future, but is not required to do so.
The court hearing on the law lasted a little under two hours on Tuesday, with three lawyers arguing Berlusconi's case and one representing the legal authorities of Milan.
Arguments focused on whether every Italian is included under the provision on equality under the law, with Milan arguing they must be.
One of Berlusconi's attorneys, Niccolo Ghedini, said the prime minister is a special case, Italian media reported.
Despite the many scandals surrounding him, Berlusconi remains popular, consistently scoring approval ratings well over 50 percent.
His private life has been in the spotlight since his wife of 19 years, Veronica Lario, filed for divorce in May.

The split followed reports that Berlusconi went to the birthday party of an 18-year-old girl, with whom Berlusconi has denied having an inappropriate relationship.
And the Spanish newspaper El Pais has published what it said were photos of racy parties at Berlusconi's villa on the island of Sardinia, including one picture that showed scantily clad women.
E-mail to a friend

CNN's Hada Messia in Rome contributed to this report.