PARIS, France (CNN) -- A man arrested in France on suspicion of links to terrorist organizations is a physicist who was working with the agency known for being home of the Large Hadron Collider -- the world's most powerful particle accelerator.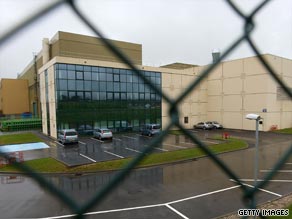 European Organization For Nuclear Research (CERN) research center near Geneva, Switzerland
"His work did not bring him into contact with anything that could be used for terrorism," the European Organization for Nuclear Research (CERN) said in a news release.
"CERN is a particle physics research laboratory whose research addresses fundamental questions about the universe. None of our research has potential for military application, and all our results are published openly in the public domain."
The scientist "was not a CERN employee and performed his research under a contract with an outside institute," the release said.
A U.S. counterterrorism official told CNN on Friday that the man has been associated with the Algeria-based al Qaeda in the Islamic Maghreb. The United States has labeled the group a terrorist organization.
The scientist was considered a "propagandist, not a facilitator," said the official, who declined to be named because the official is not authorized to speak on the record about the case.
The arrest on Thursday in Vienne, France, was a "preventive arrest" by French authorities, the official said. Although the suspect was a physicist, there was "no indication that there was any CBRN (chemical, biological, radiological, nuclear) activity or plan based on his profession," the official said.
The French home secretary's office said the suspect is one of two brothers -- both of whom were arrested -- who "are likely to be close to Islamist groups." No further details were released.
CERN said the man "has been working on analysis projects with the LHCb experiment at CERN since 2003."
LHCb stands for the Large Hadron Collider beauty experiment. It's designed to help bring answers to fundamental questions about the universe.
CERN's Web site explains, "LHCb is an experiment set up to explore what happened after the Big Bang that allowed matter to survive and build the universe we inhabit today."
E-mail to a friend

CNN's Pam Benson contributed to this report.
All About Large Hadron Collider