By Ivan Watson
CNN





ISTANBUL, Turkey (CNN) -- Turkey urged Israeli officials to use "common sense" Monday as it tried to play down diplomatic tensions between the two countries over joint military exercises.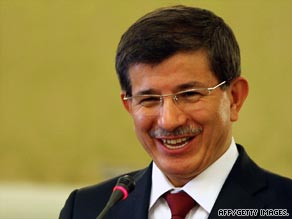 Ahmet Davutoglu said Turkey planned to create a "new atmosphere in Turkish-Israeli relations."
"It is wrong to derive a political meaning or conclusion from the postponing of the international part of the exercise," the Turkish Foreign Ministry said in a statement.
Israel said Sunday that air force exercises known as "Anatolian Eagle" were being postponed because Turkey was excluding Israel. The NATO exercises were also scheduled to include the United States and Italy.
Turkey is Israel's strongest Muslim ally in the Middle East. The two countries have enjoyed close military and economic ties for the past decade, but relations grew frosty after Israel's Gaza offensive in December and January.
Turkey's foreign minister gave a cryptic answer when asked whether the decision to exclude Israel from the military exercise was linked to Turkish anger over Israel's incursion into Gaza.
In an exclusive interview with CNN on Sunday, Ahmet Davutoglu said what had been planned as an international exercise had been changed to Turkish-only maneuvers.
He said there had been "consultations with all the parties involved," but continued: "And we hope that the situation in Gaza will be improved. The situation will be back to the diplomatic track. And that will create a new atmosphere in Turkish-Israeli relations as well.
"But in the existing situation, of course, we are criticizing this... Israeli approach. But it doesn't mean our relations have deep crisis in the sense of a problem between two countries."
On Sunday, a spokesman for the Israeli military announced that "Anatolian Eagle" had been postponed several days before it was due to begin, "as a result of Turkey's decision to change the list of participating countries, thus excluding Israel."
Turkey's foreign ministry Monday said: "It is not possible to accept the evaluations and comments in the press attributed to Israeli officials. We invite Israeli officials to (use) common sense in their statements and attitudes."
Israel's Defense Minister Ehud Barak said Monday that "relations between Israel and Turkey are strategic and have been ongoing for tens of years. Despite all the ups and downs, Turkey continues to be a central factor in our area. It is inappropriate to be dragged into criticizing it."
Turkey's prime minister, Recep Tayyip Erdogan, stormed off stage during a panel discussion at the World Economic Forum in Davos last January, after telling Israeli President Shimon Peres "you know well how to kill people."
E-mail to a friend

CNN's Shira Medding in Jerusalem contributed to this report.