LONDON, England (CNN) -- Days after a court allowed him entry into Britain, controversial Dutch lawmaker Geert Wilders said his arrival Friday marked "a victory for the freedom of speech."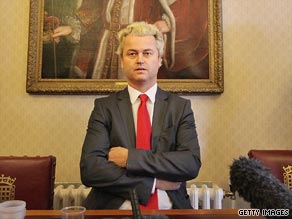 Dutch lawmaker Geert Wilders at the Houses of Parliament, London, on October 16 after being allowed entry to the UK.
"I hope, once again, that the UK government will never, never turn back somebody for political reasons because they don't like what they are saying," Wilders said at a news conference at the Houses of Parliament.
Wilders, known for his much-criticized film about Islam, was denied entry into Britain in February when he flew there to screen the film, "Fitna," at the House of Lords.
The British ambassador to the Netherlands had told him a day before he traveled that he would be turned away because the beliefs expressed in the film would threaten public security.
However, Britain's Asylum and Immigration Tribunal ruled Tuesday that the British government's decision was unjust.
Wilders, who is a member of the Dutch Parliament, said it was "ridiculous" that Britain thought his presence in the country "would in any way lead to violence."
"I am a democratically-elected politician; I only use democratical (sic) means," he said.
He also stood by the main, controversial message of his film.
"I have nothing against Muslims, I know the majority of Muslims in our society are law-abiding people," he said. "I have a problem with the Islamic ideology, the Islamic culture, because I believe that the more Islam we get in our free societies, the less freedom we will get."
Don't Miss
A crowd of protesters gathered outside the building where Wilders spoke, some of them holding signs that read "Islam Will Dominate the World" and "Shariah for the Netherlands."
"What we're doing as Muslims here, we're obliged to defend the Muslims and speak up for the Muslims wherever they are," one protester, Abdullah Amin, told CNN affiliate ITN.
"Geert Wilders, he's an enemy of Islam, and an enemy of Allah which means he's an enemy of us and we will speak out against him, against the evil he is doing."
Amin told ITN he did not think Wilders should have been let into Britain, blaming it on the "contradictions and hypocrisy" of "man-made law."
Britain's Home Office expressed disappointment in the tribunal's ruling on Tuesday.
"The decision to refuse Wilders admission was taken on the basis that his presence could have inflamed tensions between our communities and have led to inter-faith violence. We still maintain this view," a Home Office spokesman said.
The Home Office said in February that barring Wilders was allowed under European Union law, which permits states to refuse entry on the grounds of public policy, public security or public health.
Wilders' film "Fitna," which was released online in March 2008, features disturbing images of terrorist acts superimposed over verses from Islam's holy book, the Quran, to paint Islam as a threat to Western society.
After its release, the movie drew complaints from the European Union and the Organization of the Islamic Conference, as well as concern from the United States, which warned it could spark riots.
E-mail to a friend