EU leaders agree climate aid deal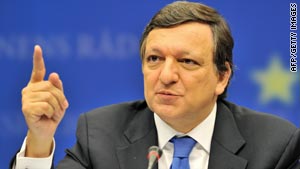 EU president Jose Manuel Barrosa believes Europe is taking a lead on climate change.
STORY HIGHLIGHTS
European Union has agreed a conditional deal to combat climate change in poorer nations
EU leaders say they will pledge between €22-50 billion ($32-74 billion)
EU estimates it will cost €100 billion ($148 billion) to combat effects of climate change
London, England (CNN) -- The European Union has agreed a conditional deal on how to help developing nations combat the effects of climate change.
Meeting in Brussels Friday, at the conclusion of a two-day European Union (EU) summit leaders agreed that it would cost €100 billion ($148 billion) per year by 2020 to help developing nations adapt to climate change.
The EU has pledged to give up to €50 billion ($74 billion) of that figure in public funds to help developing nations fight climate change.
Commenting on the deal at the summit's closing press conference, European Commission president Jose Manuel Barrosa said: "Today, the European Council has fully endorsed the figures put forward some weeks ago by the Commission that by 2020, developing countries will need around 100 billion euros a year to tackle climate change. We have a clear, ambitious, and unified EU message on climate finance."
Despite the agreement it remains unclear exactly how much the EU will pay and how that will be broken down between individual member states.
Barrosa said that the EU accepts that it will pay its "fair share" and that support will need to be "in the range of €22-50 billion".
Barrosa told the press conference that the deal confirmed the EU's leadership on climate change and gives the EU momentum heading towards the crucial climate talks in Copenhagen in December.
"We can look the rest of the world in their eyes and say we, Europeans, we have done our job. We are ready for Copenhagen," he said.