France's Chirac to face corruption trial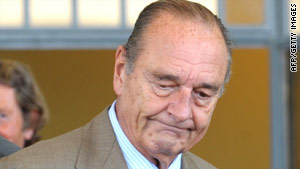 France's Jacques Chirac will face trial for corruption.
STORY HIGHLIGHTS
Chirac to become first ever former French president to stand trial
Chirac accused of using public funds to finance his presidential campaign
Leader had immunity from prosecution while in power
Paris, France (CNN) -- Former French President Jacques Chirac must stand trial on corruption charges, marking the first time a former French president is being brought to court.
The charges relate to Chirac's final months as mayor of Paris, when he is alleged to have employed staff on the city payroll who were instead working on his presidential campaign.
Chirac was mayor from 1977 to 1995 and served as president from 1995 until he was succeeded by Nicolas Sarkozy in 2007.
Specifically, Chirac is charged with breach of trust and misuse of public funds from March 1994 to May 1995. The charges refer to 21 cases of "fictitious" employees.
Chirac, 76, had immunity from prosecution while he was president, but there has been talk since Chirac left office that he might face charges.
Still, the decision to charge Chirac was somewhat unexpected after the prosecutor asked last month that the charges be dropped, saying the statute of limitations had run out on several of the charges.
-- CNN's Jim Bittermann contributed to this report.