STORY HIGHLIGHTS
Liet International is a "Eurovision"-style contest for minority languages
Estimated to be nearly 50 million minority language speakers in Europe
Event held in Friesland in northern Netherlands where local language is Frisian
2009 winners are SomBy; a Sami metal band from northern Finland
Leeuwarden, Netherlands (CNN) -- "This is the outfit our parents wore when they used to go out to dance. It's a traditional outfit," jokes Riemelmeester Malde.
Malde is addressing a theater audience in Friesland in the northern Netherlands where he and his bandmates are about to perform in their native Low German dialect at Liet International, a song contest for European minority languages.
But Malde's band is a rap trio rather than a folk troupe and their outfits are anything but traditional: boiler suits adorned with yellow and black hazard tape and garish hip hop baseball caps. Their instruments are laptops, microphones and loudhailers and, as their name suggests, De fofftig Penns owe more to 50 Cent than their Lower Saxony origins.
"We try not to have anything too middle of the road. Our contest is about new songs. The variety and originality are important," Liet coordinator Onno Falkena told CNN ahead of Saturday night's final in Leeuwarden, the Frisian capital.

Video: Disappearing dialects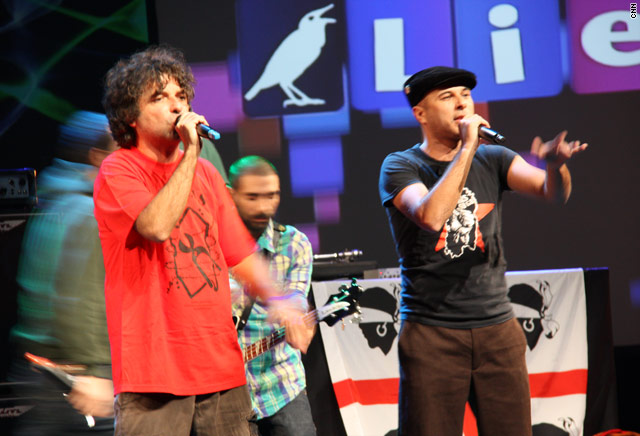 Gallery: Minority Languages Song Contest
Since being established in Friesland in 2002, Liet International has become a hub of the minority language music scene. If that sounds niche, it's worth noting that there are estimated to be almost 50 million minority or regional language speakers in Europe. Liet International casts its net for contestants across the entire continent.
In purely musical terms, the event also offers a kaleidoscopic antidote to the Eurovision Song Contest, in which the lingua franca is cheesy English-language pop. This year, other finalists represented genres as diverse as Sami metal, Occitan electronica, Celtic power pop and cultures from Karelian in the Arctic north to Sardinian in the Mediterranean south.
"You would think it would be a bit worthy with people singing in Latgalian or Scottish Gaelic," says Davyth Hicks, a Cornish-speaking musician and lobbyist for the European Bureau for Lesser-Used Languages (EBLUL) in Brussels. "But actually the musical standard is as good as anything you would get anywhere in the world in a competitive music market."
Remon De Jong, a local Frisian rapper and co-host for the evening, says the fact that the artists have consciously chosen to swim against the mainstream also allows their music to shine.
Languages represented at Liet International and their estimated speakers:
Asturian
150,000
Frisian
350,000
Friulian
600,000
Irish Gaelic
658,000
Karelian
20,000
Latgalian
150,000
Low German
4,800,000
Occitan
610,000
Sami
18,000
Sardinian
1,500,000
Scottish Gaelic
58,552
Sources: UNESCO, EBLUL, eurominority.org
Asturian:
Hola!
Frisian:
A goeie!
Friulian:
Mandi!
Irish Gaelic:
Dia dhuit!
Karelian:
Terveh teila!
Latgalian:
Vasals!
Low German:
Moyn!
Occitan:
Bonjorn!
Sami:
Hei!
Sardinian:
Bona die!
Scottish Gaelic:
Halo!
Source: EBLUL
"If you want to be a big success you don't perform in a small language," he told CNN. "These acts are playing for the music's sake and for their own people. It's a very different mindset."
Yet the main purpose of Liet International is to promote linguistic diversity. In Friesland, regional officials say the local language is thriving: around 90 percent of the province's 640,000 population understands Frisian and the language is taught in schools alongside Dutch and English.
"In Friesland we are aware of our own richness," Culture Minister Jannewietske De Vries told CNN. "We have a language of the heart, Frisian. We have a language of the nation which is Dutch. And we have a world language which is English."
For the acts, many performing in languages whose speaking populations would struggle to fill a medium-sized football stadium, the contest is a chance to express solidarity and draw encouragement from other minority cultures.
"The situation of our language is very delicate," says Ruben Bada, who performs with Alfredo Gonzalez, a finalist from Spain's northern Asturias region. "At the moment it's at serious risk of dying. So the fact we can come here to sing in our language and be recognized outside our borders is very important."
At a parallel academic conference taking place in Leeuwarden, there is a sense of growing confidence that lesser-used languages are finally being taken seriously.
A European charter promoting and stimulating regional and minority languages came into force in 1998 and has now been ratified by 24 European countries.
"We are gradually arriving at a position where minority rights and linguistic rights are being respected in a way they never were before."
--Neasa Ni Chinneide
Despite concerns voiced by many campaigners about a new language law in Slovakia which they say threatens the rights of the country's Hungarian-speaking minority, EBLUL President Neasa Ni Chinneide says that progress in bilingual regions such as Friesland is being made.
"We are gradually arriving at a position where minority rights and linguistic rights are being respected in a way they never were before," she told CNN.
Ni Chinneide also rejected notions of endangered languages as dying traditions, preserved for heritage's sake but essentially out of step with an increasingly homogeneous globalized culture. She argues that communicating in minority languages equips people for the modern world by encouraging an openness to diversity and an aptitude for multilingualism.
"What we are talking about is an engagement with real life," she says. "I don't think anyone who speaks a so-called regional or minority language thinks of themselves as being preserved. They are just being who they are."
Back at Liet International, the 11 finalists have all performed and the international jury has returned from its deliberations with the final verdict. In turn, each member of the panel steps forward to deliver their scores, the bands gathered on stage nervously glancing up at the big screen leaderboard as the tallies are updated.
Until the final round of points it's a three-way fight, with Friulian guitarist Lino Straulino and Sardinian outfit Dr Drer & CRC Posse in contention. But in the end it's Sami rockers SomBy -- performing in genuinely traditional gakti costume -- who emerge victorious.
It's an impressive achievement for the precociously young, mostly female metal band from Northern Finland, who already have a record deal and an album under their belts -- despite performing in a language spoken and understood by no more than 30,000 people, according to UNESCO estimates.
Guitarist Oula Guttorm admits there isn't much of a metal scene back home where the better known form of Sami musical expression is an a capella chanting style known as yoik.
"We came here to bring things forward," Guttorm says. "We choose to sing in Sami because we want to make Sami culture more modern. Yoik is good music but we wanted to show that our music can be something else as well."