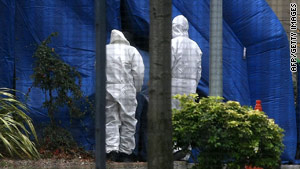 A police forensic team inspects a car inside a tent in Belfast, Northern ireland, on Sunday.
STORY HIGHLIGHTS
Car carrying 400-pound bomb crashes through barriers at police HQ in Belfast
Device only partially exploded, Police Service of Northern Ireland said
Spokesman says device would have caused "widespread damage and destruction"
Four men arrested after shot fired in County Fermanagh in separate incident
(CNN) -- A car carrying a 400-pound bomb was driven through barriers at the Policing Board headquarters in Belfast, Northern Ireland, police said Sunday.
Two men ran away from the vehicle, and there was a small explosion about half an hour later, as the building was being evacuated, the Police Service of Northern Ireland said in a statement. They believe the bomb exploded only partially.
PSNI Chief Constable Matt Baggott condemned the attack as "reckless."
Barry Gilligan, the chairman of the Policing Board, called it "an attack upon the entire community."
He said the target was "not just an empty office building on a Saturday night," as a significant number of people who lived nearby were "put at risk."
"Had this device functioned as the terrorists planned, there would have been widespread damage and destruction," an unnamed police spokesman said in the PSNI statement.
There were no injuries, the police said.
The car crashed through barriers at Clarendon Dock in Belfast at about 7:10 p.m. (2:20 p.m. ET) Saturday night, police said.

Video: Police targeted in N. Ireland
They said there was no warning before the attack. Irish terrorists often -- but not always -- send messages warning about bombs before they explode.
A police spokesman was unable to say if the bomb had malfunctioned or if it was not capable of creating a bigger blast.
A car was set on fire nearby not long afterwards. Police believe it is linked to the attack and appealed for anyone who saw it to come forward.
The Policing Board oversees the Police Service of Northern Ireland. It is composed of 19 members, some independent and some representing political parties.
Separately, four men were arrested after a shot was fired in Garrison, County Fermanagh, in Northern Ireland, on Saturday night.
"Police believe they foiled a planned terrorist attack," the Police Service of Northern Ireland said. Three of the men were arrested in Northern Ireland -- which is part of the United Kingdom -- and one was arrested across the border in the Republic of Ireland.
Baggott refused to say who the target of the attack was, despite being pressed repeatedly at a news conference Sunday.
He also refused to say who fired first, though he said the police had fired "two warning shots."
Northern Ireland Security Minister Paul Goggins blamed the attacks on "dissidents" -- a reference to militants opposed to the 1998 Good Friday Agreement that ended decades of sectarian violence in the province.
Two British soldiers, Cengiz "Pat" Azimkar, 21, and Mark Quinsey, 23, were shot dead in Northern Ireland on March 7.
A police officer, Stephen Carroll, 48, was killed on March 9.
The shootings raised fears that Northern Ireland could be plunged back into the violence that left about 3,600 people dead over the course of three decades.
But the province has mostly remained calm.
The Independent Monitoring Commission, which reports twice a year on paramilitary violence there, said earlier this month the "the unanimity of the condemnation of the murders ... had been a striking indication of the robustness of the (peace) process."
But, the group warned in its report, "the overall level of dissident activity was markedly higher than we have seen since we first met in late 2003."
They expressed particular concern about so-called dissident republicans, who want Northern Ireland to leave the UK and become part of the Republic of Ireland.
"Dissident republicans were violent and showed an intent to kill if the opportunity arose," the report said.