Former British royal aide found after prison escape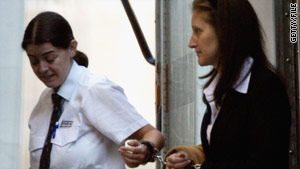 Jane Andrews, above right, arrives at the High Court, London, in September 2003 to appeal against her conviction.
STORY HIGHLIGHTS
Police find Jane Andrews "safe and well" after her escape from an open prison on Sunday
Andrews was convicted of murdering her boyfriend in a fit of rage in 2000
She was once a personal dresser to Sarah Ferguson, then the Duchess of York
Andrews was transferred to latest open prison only four days before her disappearance
LONDON, England (CNN) -- A former royal aide who escaped from an open prison where she was serving a sentence for murder has been found, British police said Wednesday.
Jane Andrews, 42, was found "safe and well" near Maidstone, Kent, about 30 miles southeast of London, Kent Police said. They offered no details about where or how she was found.
Andrews went missing after failing to report back to East Sutton Park prison in Kent on Sunday night, police said. The prison is an open facility, which allows prisoners to come and go on a fixed schedule.
She had been transferred to the prison four days before going missing.
Police had said there was nothing to suggest Andrews would be a threat to the public.
Andrews worked as a personal dresser to Sarah Ferguson, then the Duchess of York, for nine years until 1997.
She was convicted of murdering her boyfriend, Thomas Cressman, 40, in their London home in a fit of rage. She received a 10-year sentence, Kent Police said.
During the month-long trial in 2001, the Old Bailey criminal court in London heard that Andrews was an "intense person" who stabbed her lover to death while he slept after he refused to marry her.
The court heard she beat Cressman over the head with a cricket bat while he was still in bed and then stabbed him with a large kitchen knife.
Andrews apparently tried to commit suicide after killing Cressman, the court heard during her trial.
She was found in the west of England three days after the killing, in her car by the side of the road, having taken an overdose of painkillers. She was hospitalized for three days.
Andrews had been transferred from a closed prison to an open one in July. She was sent to East Sutton Park a week ago.
The Prison Service describes East Sutton Park as "a pleasant mansion house overlooking the Weald of Kent. It holds both adult and young offender women in open conditions preparing them for resettlement in the community."