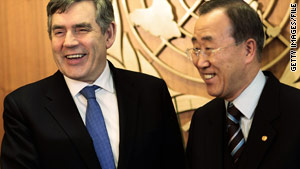 Prime Minister Gordon Brown and U.N. Secretary General Ban Ki-moon announced a conference on Afghanistan.
STORY HIGHLIGHTS
Summit designed to formulate plans for transferring power to local Afghans
London Conference scheduled for January 28 in London, England
President Obama will announce Tuesday how many troops he will deploy to Afghanistan
London, England (CNN) -- Britain announced plans Saturday to host an international conference on Afghanistan, a summit designed to formulate plans for transferring power to and bolstering the power of local authorities.
The summit is scheduled for January 28 in London, England, said Prime Minister Gordon Brown and United Nations Secretary General Ban Ki-moon, who jointly announced the meeting on Saturday at the Commonwealth summit in Trinidad and Tobago.
Ban called the meeting "a very timely initiative to allow for the holding of a high level dialogue" on President Hamid Karzai's post-election agenda, details he outlined when he was inaugurated for his second-term on November 19.
Sworn in after a fraud-married presidential election, Karzai vowed to tackle corruption and drug-trafficking. He said he anticipated the country's security to be wholly in the hands of Afghan army and police within five years.
The purpose of the London Conference reflects the urgency of international powers to find ways to strengthen Afghanistan's government and security in the face of a persistent Taliban and al Qaeda insurgency. The United States and its NATO allies, such as Britain, are considering more troop deployments to the fight there, and President Obama will announce his decision on how many extra American troops will be deployed to Afghanistan.
Brown said Saturday that the transition from international to local security in Afghanistan must get started next year, and he foresees setting "a clear timetable for 2010 and beyond."
"Within three months, our benchmark is that the Afghan government should have identified additional troops to send to Helmand province for training. This is part of our idea, that we will build up the Afghan army by nearly 50,000 over the next year.
"Within six months, we will want a clear plan for police training that means corruption is being dealt with and we have a police force that works with the local community rather than sometimes against it."
There are 68,000 U.S. troops and 45,000 other international forces in Afghanistan. Britain deploys around 9,000 troops under NATO's International Security Assistance Force command and has been based in southern Afghanistan's Helmand province, a war-torn region with a rife drug trade.
Brown said his "duty to the British people -- which is to ensure the security against terrorism on the streets of Britain -- is best discharged by making sure Afghanistan itself is increasingly over time able to run its own affairs so it will never again provide space for al Qaeda."
"At the same time the Pakistan authorities take on al Qaeda in Pakistan, we have prevented al Qaeda from returning to power in Afghanistan and also prevented the Taliban government from being in power."
The 10 Downing Street Web site also issued a statement from Brown saying "milestones would put in place the conditions for control of Afghanistan to be handed over to Afghan authorities, district by district, and for British troops to withdraw."
During the January meeting Brown said Karzai would be asked to boost the country's security forces, strengthen the local government structure and complete the process "of appointing 400 provincial and district governors" later in the year.
Ban said in a statement on Saturday another "high-level conference" is to be convened in Kabul, Afghanistan a few months after the London Conference, with that session helping to outline the "framework for an increased lead role for the Afghans in the shaping of their destiny."
"These conferences would thus constitute defining moments in the reconfiguration of the relationship between Afghanistan and the international community," Ban said.
U.S. National Security Council spokesman Mike Hammer said the United States supports the conference, and he called it an opportunity to focus on a range of issues -- such as security transition, governance, economic development, and civilian leadership issues, including the endorsement of a civilian counterpart to the commander of International Security Assistance Force.
Hammer notes that Germany Chancellor Angela Merkel, French President Nicolas Sarkozy, as well as Brown have taken the lead in proposing and planning the ministerial level event.