STORY HIGHLIGHTS
U.S. president commits to sending another 30,000 American troops to Afghanistan

Decision adds to difficulties of ISAF members who have seen public support diminish

Many world leaders are aware that public support has a time limit attached to it

Decision on when to pull out will depend on how quickly Afghan forces can be trained
LONDON, England (CNN) -- The 41 other nations contributing to the International Security Assistance Force in Afghanistan have had to wait to hear U.S. President Barack Obama's plans. But in the end he has come down firmly on the side of the "One More Push" brigade rather than those urging "Let's Cut our Losses and Quit."
The president's firm commitment to send in another 30,000 troops came just in time. Washington's painfully slow response to General Stanley McChrystal's call for a 40,000 troop surge had added to the difficulties of many ISAF members, especially the other 27 NATO nations who have seen public support for the war launched in 2001 diminishing fast.
European electorates in particular have noted the failure to achieve the war's original objectives: the capture of Osama bin Laden and the Taliban leader Mullah Omar, the crushing of al Qaeda and a significant cutback in the opium poppy supplies from Afghanistan which fuel the drug problems in European capitals.
There has been growing public dismay at the increasing death toll -- 99 British soldiers have been killed in 2009 alone -- and the escalating costs of providing the ISAF forces with adequate equipment from the diminished revenues available to governments in the recession.

Video: Obama's speech, highs and lows

Video: Obama's Afghanistan plan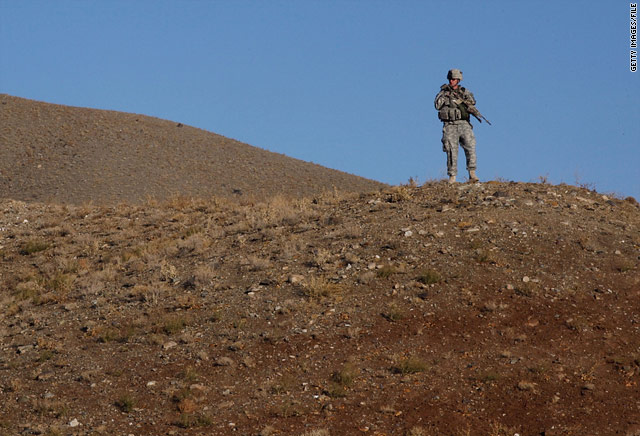 Reactions to Afghanistan strategy
Voters in many of the ISAF nations too have been questioning why their troops are risking life and limb in support of the Karzai administration in Kabul, a regime widely perceived as corrupt and ineffective.
While Washington deliberated its next move, other western leaders have found less and less public sympathy for their arguments that to pull out prematurely would make a nonsense of the efforts of those who have already made the ultimate sacrifice in Helmand and other battle areas.
Those backing a continued effort, like UK Prime Minister Gordon Brown, have been arguing too that a pullout would destroy forces' morale and dangerously weaken NATO coherence. Not to mention the fact that promises have been made to the Afghans who have co-operated with ISAF and whose futures would be in peril if the force were to pull out early.
The other fear at the back of military planners' minds is the thought that if Afghanistan were allowed to fall then Pakistan would be further destabilized. And Pakistan is a nation in possession of nuclear weapons.
All that said, NATO leaders like Brown and French President Nicolas Sarkozy know that the public support which remains, even bolstered by a commitment from a president who has now more than doubled the number of U.S. troops involved in Afghanistan, has a definite timespan attached.
They have noted with relief that Obama is now talking in terms of an exit strategy, beginning in 2011, and that the very first sentence of his West Point address used the word "conclusion."
Others are echoing Obama and Brown in insisting there must be benchmarks now for the Karzai regime, including the provision of many more Afghan troops and police for training; the clearing out of corrupt district and provincial officials; and the provision of an effective economic stake for Afghan citizens.
Like Brown, many more want to push the Pakistan authorities to do more too to chase out al Qaeda as well as fighting the Taliban. Afghanistan is not a stand-alone problem.
Western diplomats have quietly noted too the different strategy being signalled. The president's address did not talk of "defeating" the Taliban, it talked of reversing the Taliban's momentum. In the end, it seems, there will be deals.
But one key question remains. McChrystal demanded 40,000 more troops to implement his counter-insurgency strategy. Obama is giving him 30,000. Will the other ISAF and NATO nations step up to the plate to fill the gap for the 18 months until an exit strategy might become visible?
Anders Fogh Rasmussen, the NATO Secretary General, has said he is confident the alliance will produce more troops. But he has not been specific about numbers.
Speaking before the president gave his numbers, Britain's Brown pledged another 500 troops, taking the UK contribution to more than 10,000 (though he was only able to reach that magic number by announcing the presence in Afghanistan of 500 members of the special forces, whose role in any theater is not normally disclosed).

Video: Afghan-American view

Video: Afghanistan strategy analysis
There are indications that Spain, Italy, Poland, Slovakia and Turkey will add to their contingents in Afghanistan. But there is no sign yet of the extra 1,500 apiece from France and Germany that the U.S. was hoping to see declared.

Indeed, any German contribution may turn out to be very much smaller than that. German Chancellor Angela Merkel's new government has been rocked by the resignation of her defense minister Franz-Josef Jung and army chief of staff General Wolfgang Schneiderhan following the deaths in September of at least 70 Afghan civilians in a botched bombing strike near Kunduz, ordered after the Taliban captured two petrol tankers.
It was the first time German troops had been involved in civilian casualties for three generations. Partly in consequence, opinion polls indicate that two-thirds of the German public want no stepping up of German involvement. Merkel is not expected to make any promises before the London conference on Afghanistan at the end of January.
Troop contributions may be announced at a NATO meeting within the next few days. But there is a longer term question which few of the leading figures are prepared to address for now. What happens if the Afghan forces are not there in sufficient numbers and properly equipped and trained to start taking over from July 2011? For the moment that is a prospect just too painful to contemplate.
FOLLOW THIS TOPIC