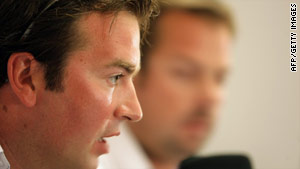 The yacht's captain, Oliver Smith, talks to reporters shortly after his release from Iranian custody.
STORY HIGHLIGHTS
Five men apprehended by Iranian Navy on Nov. 25 as their racing yacht traveled from Bahrain to Dubai
Authorities freed men after determining they had accidentally strayed into Iranian waters
The sailors had told relatives that their boat became disabled and hard to steer
London, England (CNN) -- The British sailors freed after a week in Iranian custody apologized to their families Friday as they were reunited for the first time since their detention on November 25.
Olly Smith, Sam Usher, Luke Porter and Oliver Young were met at London's Heathrow Airport by their families, while David Bloomer, the other sailor who had been detained with them, went to Bahrain after being released, Britain's Foreign Office said.
The five men were apprehended by the Iranian Navy last month as their racing yacht traveled from Bahrain to Dubai for a competition.
Iranian authorities said they released the men Wednesday after determining that they had accidentally wandered into the country's waters, the semi-official Fars news agency said.
The sailors had told relatives that their boat became disabled and hard to steer.

Video: British sailors freed
Skipper Smith, 31, from Southampton, England told Britain's Press Association: "It's great to be back. Initially, when we first got stopped, it was not very nice to be blindfolded and taken back to be questioned.
"As time went by, the guys treated us very well. There was no animosity at all."
Crewmate Oliver Young, 21, added: "We had a bit of a shocker really. We are sorry for everything we've put our families through, and thanks to everyone."
Smith's father Edwin told PA: "It's the difference between seeing him on the television, which we've been doing a lot of over these last few days, and being able to walk up to him, poke him in the ribs, and say, 'Why did you do that you silly bugger?'."
The sailor greeted his parents with a simple, 'Hi, good to see you' and was now planning to relax, his father added. "He's going to go home, unwind probably, and we'll go and spend the day with him to get reacquainted."
British authorities on Tuesday had asked for a speedy resolution in the case, after an Iranian official said the sailors could be dealt with severely if it was determined that they had ill intentions.
Parents of the sailors said the situation was tense when the Iranians first confronted their sons and they were temporarily blindfolded by their captors.
David Young, father of sailor Oliver Young, said at a news conference Wednesday that he was relieved that the situation was brought to a quick resolution.
"We did say to everybody in there, and to people in Bahrain, and to people in Tehran who have been working on this, how much we appreciated their efforts, how well they've handled the situation," Young said.
CNN's Claudia Rebaza contributed to this report.