109 killed in Russian nightclub inferno
STORY HIGHLIGHTS
NEW: Death toll from Friday night blast rises to 109
Police question two people in relation to explosion in busy nightclub
85 of the injured are in critical condition, officials say
"Unsanctioned use of pyrotechnical devices" cited as cause in early statement
Moscow, Russia (CNN) -- Police questioned an owner and a manager of a Russian nightclub Saturday after the alleged misuse of fireworks caused an explosion that killed more than 100 people.
The death toll had risen to 109 in the explosion in central Russia, government officials said.
At least 133 more were injured in the incident that officials said was caused by unsanctioned use of fireworks in the club.
Eighty-eight of the injured were in critical condition Saturday, according to officials with the Russian Emergency Situations Ministry.
Fifty-five of those critically injured were hooked to artificial lung ventilators, said Russian Health Minister Tatyana Golikova.
The preliminary theory behind the blast Friday in the city of Perm, 900 miles east of Moscow, was "unsanctioned use of pyrotechnical devices," the ministry said.
"The breach of technology while setting off a firework was the cause of the accident," said Vladimir Markin, a spokesman for the Investigative Committee of the Russian Prosecutor's Office. "It was not a terrorist act," he told Russian news agencies.
Burns and smoke inhalation caused the deaths, Markin said, adding that authorities have opened a criminal investigation.
The Investigative Committee of the Russian Prosecutor's Office said it was questioning a co-owner and manager of the nightclub.
President Dmitry Medvedev, in a televised address from his country residence near Moscow, demanded that those responsible for the accident get the harshest possible punishment.

Video: 109 killed in nightclub fire

Video: Russia: Fireworks turn deadly

Video: Blast kills nightclub goers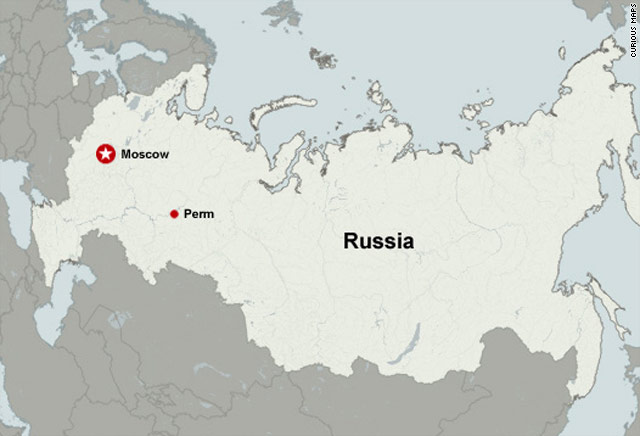 Map: Blast blamed on fireworks
Right before the blast, an artist performing on stage juggled with what was described as cold-flame pyrotechnical maces that he threw high up in the air, law enforcement officials said on Russian state television.
The club's ceiling caught fire and almost immediately spread on to the wooden walls, cutting off exits from the building, the officials said.
Russian news media said the blast occurred as a party was in full swing at "The Lame Horse" nightclub, which was celebrating its eighth year in business.
Medvedev sent government officials to Perm to handle the consequences of the accident, organize medical assistance to survivors and investigate the event.
Prime Minister Vladimir Putin dispatched two planes from Moscow equipped to carry people with extensive burns.