JERUSALEM (CNN) -- Israeli warplanes continued to pound Hamas targets in Gaza on Friday as the world waited to see whether Israel would launch a ground attack.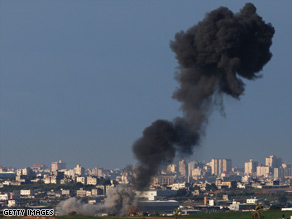 Smoke rises after an Israeli airstrike in Gaza on Friday morning.
The Israeli government has said the airstrikes, aimed at stopping Hamas from firing rockets into southern Israel, are only the beginning of a wider military operation.
Israel has moved tanks to the outskirts of Gaza and called up at least 2,000 army reservists.
Israel Defense Forces spokeswoman Avital Leibovitch said ground forces are prepared to enter Gaza when they receive orders to do so.
Meanwhile, exiled Hamas leader Khaled Meshaal promised bloodshed if Israeli troops invade.
"As for you, the soldiers of the enemy whose leadership are getting you ready to enter Gaza in a ground attack, you need to know that doom will await you and you will be killed, injured and captured," Meshaal, speaking in Syria, told Al Jazeera television network Friday. "If the enemy got into Gaza, our people will fight from one street to the next, from one house to the other, and on every inch of the land."
Leibovitch said Israel's ground troops are better prepared for fighting than they may have been in the past.
In 2006, Prime Minister Ehud Olmert acknowledged that mistakes were made during an Israeli invasion against Hezbollah in Lebanon. Hezbollah declared victory after Israeli troops withdrew, and the majority of Israelis said they did not feel that either side had won.
Among Palestinians killed Friday were three boys playing in a lot next to a home belonging to a Hamas military leader in Khan Yunis, in southern Gaza, Palestinian officials said.
President Bush, in a radio address to air Saturday, blamed Hamas for the fighting and deaths in Gaza, saying militants committed an act of terrorism when they renewed the launching of rockets into Israel last month.
Don't Miss
"In response to these attacks on their people, the leaders of Israel have launched military operations on Hamas positions in Gaza," Bush said in the remarks, released Friday by the White House. "As a part of their strategy, Hamas terrorists often hide within the civilian population, which puts innocent Palestinians at risk."
Robert Serry, the U.N. special coordinator for the Middle East Peace Process, said much of Gaza's infrastructure has been destroyed.
"Protection of civilians, the fabric of Gaza, the future of the peace process and regional stability -- all are trapped between the irresponsibility of Hamas rocket attacks and the excessiveness of Israel's response," he said from Jerusalem.
"And ... with Israeli tanks on Gaza's border, it is absolutely imperative now that we find an immediate and lasting way out to avoid an even deeper and deadlier conflict."
Palestinian medical sources said Friday that at least 421 people have been killed and 2,200 wounded in Gaza since the raids began early Saturday.
Israeli police and military officials said four people -- three of them civilians -- have died in the weeklong fighting. Another 57 have been wounded.

Watch how missiles terrorize Israeli towns »
The director of rehabilitation at El Wafa Hospital in Gaza City, Dr. Khamis Elessi, said Friday that 19 children have died in the past 24 hours, all under the age of 15,.
Doctors were shorthanded and under tremendous strain, he added.
Six of the hospital's medical staff -- a doctor, a lab technician and four paramedics -- died this week, Elessi said.
"The situation is so desperate. There is no electricity. No fuel. No food. No medicines," he said.
The hospital is only about a half-mile from Israel.
Officials from the Hamas-ruled territory visited Shifa Hospital in Gaza City, seeking to reassure patients and doctors.
The Israeli military said that among the targets bombed Friday were homes where munitions and weapons were stored.
Hamas security sources said the Nusseirat home of Imad Akel, who Israel said is a leading figure in developing rockets, was struck. Nusseirat is located about 7 kilometers (4 miles) southwest of Gaza City.
According to the Israeli newspaper Haaretz, the Israeli air force bombed the home of Hamas member Mohammed Madhoun on Friday night.
The newspaper said that Madhoun was responsible for some of the rocket attacks against Israel and that his house also was used as a laboratory for manufacturing rockets and explosive devices.
On Thursday, the homes of two top members of Hamas' military wing, the Izzedine al-Qassam Brigades, were struck. One of the men, Nizar Rayan, was killed.

Watch what Rayan's death means to Hamas »
E-mail to a friend

CNN's Michal Zippori contributed to this report.