JERUSALEM (CNN) -- A European Union delegation is heading to the Middle East to meet with regional leaders and seek a Gaza cease-fire, officials said Saturday.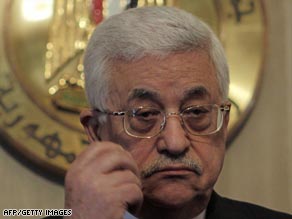 Palestinian President Mahmoud Abbas will meet the EU delegation on Monday.
Palestinian President Mahmoud Abbas will meet the delegation Monday in Ramallah, West Bank, chief Palestinian negotiator Saeb Erakat said. Abbas then plans to head to New York for meetings at the United Nations, Erakat said.
Monday's first meeting will involve members of the European Union leadership and French President Nicolas Sarkozy, whose country just finished a six-month EU presidency. The Czech Republic, which took over the role from France, will lead the delegation, the Czech presidency said.
The officials would try to establish a dialogue between the EU and Middle East to look for possible ways of reestablishing an armistice in Gaza, the Czech presidency said. They would also be looking for ways to provide humanitarian aid to people in Gaza.
The delegation heads to Egypt on Sunday for a meeting with Foreign Minister Ahmed Aboul Gheit. They would hold a full day of meetings in Israel and the West Bank on Monday, and on Tuesday they head to Jordan to meet with Prime Minister Nader al-Dahabi.
Europe's stepped-up initiative comes as the United States stays out of the spotlight.
Secretary of State Condoleezza Rice said Washington is talking with European, Israeli and Arab partners to find a "sustainable" solution in Gaza, but at this point, Rice has no plans to head to the region.
Don't Miss
The White House has declined comment on whether an Israeli ground incursion would be justified.
Both the White House and the State Department have also refused to comment on reports that some diplomats are suggesting international monitors be brought into Gaza as part of any peace deal.
E-mail to a friend

All About Gaza • Israel • Hamas • Mahmoud Abbas • George W. Bush