JERUSALEM (CNN) -- A European Union delegation aimed at diffusing tensions and re-establishing a cease-fire between Israel and Gaza headed to the region Sunday, nine days after Israel began its military assault on Gaza.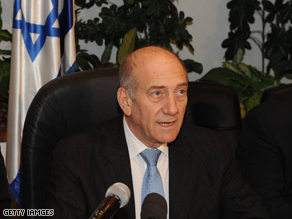 Israeli Prime Minister Ehud Olmert said he had to order Gaza attacks to stop rocket attacks in Israel.
The EU delegation, led by Czech Foreign Minister Karel Schwarzenberg, also aims to facilitate humanitarian aid for Gaza residents.
"It is now our task to make sure that EU aid reaches the inhabitants of the Gaza Strip, that the border crossings are open and that the aid does not disappear somewhere along the way," Schwarzenberg said in a written statement.
The EU team was expected to arrive in Egypt on Sunday before continuing to Israel and the Palestinian territories on Monday.
U.N. Secretary General Ban Ki-moon on Sunday urged the U.N. Security Council to push for a swift end to the conflict.
In a written statement, Ban also said the U.N. is pressing Israeli authorities to open Gaza border crossings "to allow in ... wheat grain and fuel for the power plant, as well as other essential supplies."
The day after Israel began an air assault on Gaza in late December, the U.N. Security Council issued a statement calling for an immediate cease-fire. But the council failed to agree on a further statement Saturday, the day Israel began a ground offensive in Gaza.
Former British Prime Minister Tony Blair, who is now an international envoy focusing on Israel and the Palestinians, met separately with Israeli Prime Minister Ehud Olmert and Israeli Defense Minister Ehud Barak on Sunday, emphasizing desires for a stable cease-fire that would ensure Israel's security.
Barak also met Sunday evening with New York Mayor Michael Bloomberg, who traveled to Israel late Saturday to show support for Israeli citizens whose cities have been hit by rockets from Gaza.
Touring areas hit by Hamas rockets, Bloomberg told reporters that if Hamas didn't stop sending rockets into Israel, "then Israelis have no choice but to use all of the resources in their command to protect their citizens -- we would do exactly the same thing in New York City."
Ain Haque, a member of the New York-based American Muslim Association, countered Bloomberg's statements. "It's not the right time to praise Israel. We should not be involved on any side," Haque said. "We should give equal weight to each side."
Because of the Gaza situation, U.S. Secretary of State Condoleezza Rice canceled a trip to China, the U.S. State Department said Sunday. Instead, Deputy Secretary of State John D. Negroponte will travel to Beijing to meet with Chinese leaders and commemorate the 30th anniversary of the establishment of diplomatic ties between the United States and China.
The Russian Foreign Ministry also sent a representative to the Middle East on Sunday.
Don't Miss
French President Nicolas Sarkozy will head to the Middle East on Monday to meet Palestinian and Israeli leaders, French Foreign Ministry spokesman Eric Chevallier said Sunday. Palestinian Authority President Mahmoud Abbas will meet Sarkozy in Ramallah, then head to New York for meetings at the United Nations later in the week.
A Hamas delegation is scheduled to travel to Cairo, Egypt, on Monday for talks with Arab leaders, according to Dubai-based news channel Al-Arabiya.
The flurry of diplomatic activity follows an Israeli ground incursion into Gaza late Saturday after a week of air raids. At least 507 Palestinians have been killed since Israeli air raids began December 27, most of them militants but also including about 70 children and 30 women, Palestinian medical sources said.
Four Israelis have died in rocket attacks, and a soldier Sunday became the first Israeli combatant killed in action since Israel launched its ground incursion on Saturday night. Israel says it is trying to stop rocket fire from Gaza, which is controlled by the Hamas movement.
The EU said Sunday the rocket attacks did not justify Israel's incursion. iReport.com: Share reactions to crisis in Middle East
"Even the undisputable right of the state to defend itself does not allow actions which largely affect civilians," the EU presidency said in a statement, calling for a cease-fire.

British Prime Minister Gordon Brown also called for an "immediate cease-fire" on Sunday, saying the Palestinians "need humanitarian aid, but the Israelis must have some assurance that there are no rocket attacks coming into Israel."
"First we need an immediate cease-fire -- and that includes the stopping of the rockets into Israel. Secondly, we need some resolution of the problems over arms trafficking into Gaza. And, thirdly, we need the borders, the crossings open, and that will need some international solution," he told the BBC's "Andrew Marr Show."
E-mail to a friend