JERUSALEM (CNN) -- Foreign ministers from several Arab nations huddled in New York on Monday -- the eve of Palestinian President Mahmoud Abbas' address to the U.N. Security Council -- to work up a U.N. draft resolution calling for an immediate cease-fire in Gaza.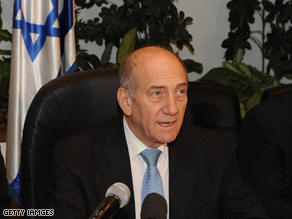 Israeli Prime Minister Ehud Olmert said he had to order Gaza attacks to stop rocket attacks in Israel.
The draft calls for Israel to stop its offensive in Gaza and for Hamas, which rules Gaza, to cease firing rockets at the Jewish state.
"We are here with the expectation that all the members of the Security Council will work in positive spirit," Palestinian Foreign Minister Riyad al-Malki said on Monday at the United Nations. "I don't have any doubt that any Palestinian would disagree with any efforts we are making, not only as Palestinians but collectively as Arabs, in order to really put an end to Israeli aggression, to reach a cease-fire, to lift the siege, to allow in humanitarian aid, to open the crossing and to allow international observers."
Israel closed in on Gaza City late Monday, as Hamas and Jerusalem showed little interest in international calls for a truce.
U.N. Secretary General Ban Ki-moon on Sunday urged the U.N. Security Council to push for a swift end to the conflict.
In a written statement, Ban also said the U.N. is pressing Israeli authorities to open Gaza border crossings "to allow in ... wheat grain and fuel for the power plant, as well as other essential supplies."
The meeting came on the same day European foreign ministers met with Israeli leaders Monday to push for an end to the ongoing conflict between Israel and Hamas militants in Gaza.
The European Union delegation will also meet with Palestinian and other regional leaders during its visit to the region. In addition, French President Nicolas Sarkozy and former British Prime Minister Tony Blair -- a Mideast envoy -- are also pushing Israeli and Palestinian leaders to agree to a truce.
The Russian Foreign Ministry also sent a representative to the region.
A Hamas delegation was scheduled to travel to Cairo on Monday for talks with Arab leaders, according to Dubai-based news channel Al-Arabiya.
Meanwhile, a Palestinian delegation is at the United Nations' headquarters in New York to lay the groundwork for a Security Council resolution .
Palestinian Authority President Mahmoud Abbas plans to present a draft resolution to the council on Tuesday.
Don't Miss
The resolution, according to Palestinian Foreign Minister Riyad al-Malki, will call for "an immediate and permanent cease-fire" as well as demand Israel open the border crossings to a steady supply of humanitarian aid.
The Security Council held an emergency meeting Saturday after Israel launched its ground offensive in Gaza, but failed agree on a public statement on the issue.
Arab nations blamed the United States for blocking a consensus.
U.S. Secretary of State Condoleezza Rice canceled a trip to China, scheduled for this week, because of the crisis. There are no plans for her to travel to the Middle East, but State Department spokesman Sean McCormack said Monday that she has made several calls to foreign officials in an effort to push for "a sustainable, durable, non-time-limited cease-fire."
President George W. Bush -- whose term ends on January 20 -- said Monday that "any cease-fire must have the conditions in it so that Hamas does not use Gaza as a place from which to launch rockets."
On December 27, Israel began an air assault to stop ongoing rocket attacks from Gaza. Israel sent ground forces into Gaza Saturday for what it described as the second phase of the operation. Despite the military efforts, militants in Gaza continue to fire rockets into southern Israel.
More than 530 Palestinians have died in the Israeli military operation in Gaza. The rocket strikes have killed four Israelis in the past 10 days, and one Israeli soldier has died during the ground incursion.
But neither Israel nor Hamas has given any indication that it is willing to consider a truce.
Israeli Foreign Minister Tzipi Livni told the visiting delegation of EU foreign ministers that the motivation for going into Gaza was to "change the equation" that favored Hamas, and the military operation will be "a long battle against terror."

Watch Livni speak »
She said Israel's action represent "a legitimate right to self-defense."
Senior Hamas official Mahmoud al-Zahar said Monday that the Gaza leadership has no intention of stopping the rocket fire toward Israel. And a spokesman for Hamas' military wing vowed to strike Israel for "many months."

At the joint news conference with Livni, Czech Foreign Minister Karel Schwarzenberg -- whose country on January 1 assumed the rotating presidency of the EU -- said he communicated to the Israeli foreign minister "that a cease-fire should be established as soon as possible" but said that the two sides did not go into specifics.
"We can mediate and assist for a solution but it's not up to us to propose conditions for a cease-fire," he said, adding that it is "not the moment to do so."
E-mail to a friend