Editor's note: Campbell Brown anchors CNN's "Campbell Brown: No Bias, No Bull" at 8 p.m. ET Mondays through Fridays. She delivered this commentary during the "Cutting through the Bull" segment of Tuesday night's broadcast.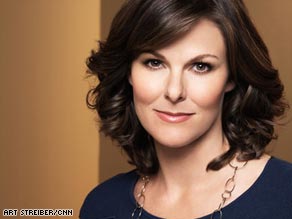 CNN's Campbell Brown says many of the available images of the conflict are provided by Hamas.
(CNN) -- We have been trying to report as accurately as possible on the fighting in Gaza.
But that is without question a challenge when we do not have reporters on the ground who can bring you first-hand information about what is taking place.
The reason we have no reporters on the ground in Gaza is because Israel will not allow foreign journalists into Gaza.
Tuesday night, we call for Israel to open the borders to allow journalists in, to allow them to do their jobs, to witness first-hand what is happening on the ground.
Certainly there are risks, both for journalists and for Israel.
'No Bias, No Bull'
Get the latest on the day's main events.
8 ET Monday through Friday

There is both a battle on the ground and a public relations war under way.
But right now, only a handful of Palestinian journalists are there.
Much of the information coming out of Gaza is impossible to verify and many of the images you see on television are provided by Hamas.
There is but one way to get a true picture of what is happening now.

That is to allow journalists the access we need to tell this story with accuracy and with context.
The opinions expressed in this commentary are solely those of Campbell Brown.
E-mail to a friend