GAZA CITY (CNN) -- Israeli artillery Tuesday struck near a U.N. school sheltering civilians in Gaza, killing at least 40 people after, according to the Israeli military, Hamas militants fired mortars from the location.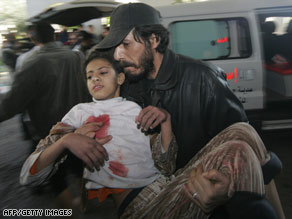 A Palestinian man carries a wounded girl into a Gaza City hospital on Tuesday.
Dozens of other people were injured in the strike in the northern Gaza town of Jabalya.
"We face a very delicate situation where the Hamas is using the citizens of Gaza as a protective vest," Israel Defense Forces spokesman Brig. General Avi Benayahu said after the incident.
The Israeli strike was one of three on U.N. school properties in Gaza since Monday. An Israeli artillery shell struck an empty boys school in Jabalya on Tuesday, and an Israeli airstrike killed three men at an elementary school being used as a shelter in Gaza City on Monday, a U.N. agency said.
The United Nations called for an independent investigation into all three strikes.
"We're demanding full accountability in accordance with international law and the duty of care that the parties to the conflict are obliged to adhere to," said John Ging, director of the United Nations Relief and Works Agency.

'No safe haven' in Gaza, U.N. official says »
Tuesday's strikes came on the 11th day of an Israeli military offensive in Gaza. Israel says the offensive is aimed at stopping Hamas from firing rockets into southern Israel.
The Israel Defense Forces said a mortar-firing operation and a pair of prominent Hamas operatives -- Imad Abu Askhar and Hassan Abu Askhar -- were at the occupied school hit Tuesday. The two were among the Hamas militants killed in the strike, an IDF statement said.
"This is not the first time that Hamas terrorists have used Palestinian civilians as human shields and has exploited their deaths for the benefit of the international media," an Israeli statement read. "Israel will continue to treat as valuable the lives of all Palestinian civilians and refuses to devalue the lives of Gaza residents in the manner of Hamas."

Watch the IDF claim Hamas is using human shields »
Three artillery shells struck near the perimeter of the school, according to Ging.
On Monday night, an Israeli airstrike hit the U.N.'s Asma Elementary school in Gaza City, killing three Palestinian men, all members of the same family, UNRWA said.

Watch what a missile did to one of the schools »
According to the agency, 400 Palestinians were staying in Asma Elementary at the time of the airstrike.
Don't Miss
Ging said all U.N. buildings in Gaza are "clearly marked" with U.N. flags, and UNRWA had given the global-positioning coordinates of all its schools -- which are being used by civilians fleeing the military operation -- to Israeli authorities, Ging said.
Nearly 600 Palestinians have been killed and another 2,750 wounded in Gaza since Israel launched an air offensive December 27, according to Palestinian medical sources.

Watch Christiane Amanpour's interview with Mideast envoy Tony Blair »
Israel claimed Tuesday to have killed 130 Hamas fighters since beginning a ground offensive at dusk Saturday. The IDF also said seven Israeli soldiers -- including one killed Tuesday morning -- and three civilians have been killed since airstrikes began in December.

Learn what's behind the conflict »
An Israeli missile struck a Palestinian ambulance on Tuesday, its Red Crescent driver told CNN, but the IDF said it is unaware of such an incident.
A spokesman for the Palestine Red Crescent said Israeli forces have hit a total of five ambulances, with six people dying as a result. CNN has so far been unable to verify the allegations.

Watch more about the worsening conditions in Gaza »
According to the Israeli military, Hamas fired 35 rockets into Israel on Tuesday. One of them hit a house in Gedera, about 25 miles (40 kilometers) north of the Gaza border, causing slight injuries to a 3-month-old baby.
Tuesday's incidents came as Israeli ground forces surrounded densely populated Gaza City after at least 50 airstrikes pounded the region overnight.

Watch as Israel's forces surround Gaza City »
Diplomats were turning up the heat for a cease-fire. Egypt proposed a temporary cease-fire to allow Gaza's borders to be opened for humanitarian relief, according to diplomatic officials. iReport.com: Families walk in charred rubble, broken glass

Egypt also proposed Israeli-Palestinian discussions focused on avoiding escalation and closing tunnels used by Hamas to smuggle weapons into Gaza, Egyptian President Hosni Mubarak said Tuesday.

Learn what's behind the conflict »
Elements of the plan were circulating through the United Nations late Tuesday. iReport.com: Share reactions to "all-out war" in Gaza
E-mail to a friend

CNN's Talal Abu Rahma in Gaza City, Michal Zippori in Jerusalem and Nic Robertson, Ben Wedeman and Paula Hancocks on the Israel-Gaza border contributed to this report.