JERUSALEM (CNN) -- A U.N. agency is demanding Israel back up its claims that Hamas was firing on Israeli forces from a U.N. school compound in northern Gaza, forcing Israeli artillery to shell the area and kill more than 40 Palestinian civilians.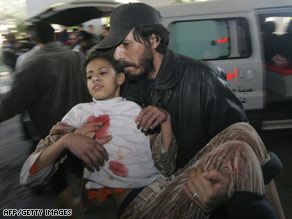 A Palestinian man carries a wounded girl into a Gaza City hospital.
"We have nothing to hide," U.N. Relief and Works Agency spokesman Chris Gunness said. "Bring it on. We want to see the evidence, we want to clear any suspicion."
Gunness, whose agency runs several schools in Gaza, spoke about Tuesday's incident in Jabalya in a joint CNN interview with Israeli Foreign Ministry spokesman Yigal Palmor, which at times became quite heated.
Palmor told CNN's Finnouala Sweeney that Israel "know(s) for a fact that a Hamas squad was firing mortar shells from the immediate vicinity of the school, from the school grounds."
"The IDF (Israel Defense Forces) responded to that fire, and the tragic result was what we all know."

'No safe haven' in Gaza, U.N. official says »
Gunness objected to that point, and asked Palmor to "be clear."
"Yigal, I've got to nail you on this -- were they in an UNRWA compound or not? If they were, then you can say to people, 'Well they were there.' If they weren't, let's be clear about it, be honest, be open."
Palmor clarified that "the immediate vicinity" meant "right next to the wall." But, he added, "What wall exactly I'm not in a position to say now."

Watch the IDF claim Hamas is using human shields »
The Israeli military said Tuesday that Hamas militants were firing mortars from the U.N. school in Jabalya that was being used as a shelter by hundreds of civilians. It said a pair of prominent Hamas operatives -- Imad Abu Askhar and Hassan Abu Askhar -- were inside the school.
Those operatives, described as heads of Hamas mortar-firing operations, were killed in the strike, the Israel Defense Forces said.
Also on Tuesday, an artillery shell struck inside a second U.N. school in the same town, but the boys' prep school was empty at the time, UNRWA director John Ging said.
Don't Miss
Both incidents in Jabalya came a day after an Israeli airstrike killed three men at a U.N. school in Gaza City. UNRWA maintains that all U.N. buildings in Gaza are clearly marked with U.N. flags, and said the agency had given Israeli authorities the satellite positions of all of its schools before the fighting started.
Gunness said based on UNRWA's investigation, the agency is "99.9 percent certain" there were no Palestinian militants in or on the grounds of the school that was sheltering civilians when it was shelled by Israeli forces.
Palmor said Israel cannot present the evidence supporting its side because "the army's still inside Gaza fighting." He would not commit to an impartial inquiry on the matter -- which UNRWA has called for -- because Israel could not be certain that it would be credible.
The Israeli spokesman noted that a U.N. inquiry into a 2007 incident in which militants came into a U.N. compound and fired on Israeli forces has still not been fully investigated.
"How can we be sure that a new investigation will be credibly held by the same people?" Palmor asked.

But Gunness said an impartial investigation conducted by the U.N. would be the only way to clarify what happened.
"If there's any doubt, can anyone come forward (and) give us the evidence?" Gunness demanded. "The Israeli army is circulating ancient pictures, which allegedly show militants using our compound. It's an old set of pictures to show a new case. It doesn't work."
E-mail to a friend

CNN's Shira Medding contributed to this report.