WASHINGTON (CNN) -- Western governments stepped up efforts to rescue their citizens from Gaza Wednesday as violence swept the area for the 12th day in a row.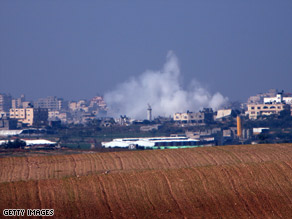 The International Committee of the Red Cross was unable to rescue foreigners due to security concerns.
More than 100 Western nationals remained trapped Wednesday night inside Gaza, the consulate general of Sweden based in Jerusalem, told CNN.
Among them were 34 Swedes as well as several Norwegian, Canadian, French and Polish nationals, the consulate general said.
The U.S. Embassy and Consulate in Israel evacuated 27 people from the area, including 16 Americans and 11 members of their immediate families, State Department Spokesman Gordon Duguid said.
The Council on American-Islamic Relations said Wednesday it asked Secretary of State Condoleezza Rice in a letter to help secure the departure of two Americans, ages 6 and 3. Israeli bombs fell within 100 yards of their family's house in Gaza, the Washington-based organization said in a written statement. State Department officials said they were unaware of the request.
Efforts to assist the foreigners were hampered by violence between Hamas militants and Israeli forces, and the lack of U.S. State Department officials in Gaza. Access to Gaza is controlled by the Israelis.
Citing security concerns, the International Committee of the Red Cross canceled an assisted departure Wednesday morning from Gaza City via the Erez crossing.
"As soon as we get a glimmer of hope, it all turns around and the situation is again hopeless," said Fadia Aiad, a Swedish national from western Gaza City, who was in Gaza with her five children.
"We are now waiting here in the French culture house outside Gaza, and we have been promised to be evacuated tomorrow, but nothing is for sure," she said. "We just want to get back to Sweden."
Wednesday's cancellation of the Red Cross evacuation left Swedish government officials unsure of when the next opportunity to extract its citizens would come.
"It was horrible calling our Swedish nationals with the news that their departure was canceled," said Anna Brodin, consul for political affairs with the consulate general of Sweden in Jerusalem. "Many are isolated and are having a very hard time dealing with this crisis."
The Swedish Embassy in Cairo, Egypt, was trying to persuade Egyptian authorities to open the Rafa crossing for Western nationals.
"We have been in contact with our Swedish nationals and they are desperate to get out," said Andre Mkandawire, press officer at the Swedish Ministry for Foreign Affairs. "But, for now, it is impossible to speculate on when we will be able to get them out."
Exchanges of rocket and artillery fire between Israeli forces and Hamas militants have consistently escalated, barely pausing for a planned three-hour humanitarian truce.
"We have deep concerns about the humanitarian situation in Gaza," Rice said at the United Nations, where she participated in numerous diplomatic meetings intended to lead to a permanent cease-fire.
"I am pleased that the Israelis were able to open a humanitarian corridor and provide a pause for humanitarian action, but that needs to be repeated again and again because the people of Gaza need to be in a position to be able to get a lifeline to goods and supplies and to sanitation and to medical help," she said.

Brodin said the Israel Defense Forces told people in southern Gaza that they need to leave their homes by Thursday morning.
"We are expecting things to worsen in the southern parts, but people are having a hard time to travel north," she said. "This is a huge humanitarian crisis."
E-mail to a friend

CNN's Charley Keyes and Per Nyberg contributed to this story.