(CNN) -- There's no truth to accusations by bloggers that a Palestinian camera crew staged a video showing the death of the videographer's brother after an Israeli rocket attack, said the team's employer.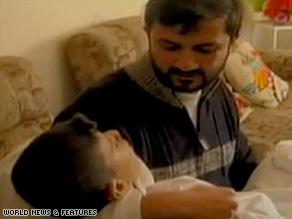 In the video, camerman Ashraf Mashharawi is seen holding his brother.
"It's absolute nonsense," Paul Martin, co-owner of World News and Features, said of accusations leveled by bloggers at videographer Ashraf Mashharawi.
"He's a man of enormous integrity and would never get involved with any sort of manipulation of images, let alone when the person dying is his own brother," Martin said. "I know the whole family. I know them very well. ... [Mashharawi] is upset and angry that anyone would think of him having done anything like this. ... This is ridiculous. He's independent."
Raafat Hamdouna, administrative director at Shifa Hospital in Gaza City, said Friday that "Mahmoud Khalil Mashharawi, a 12-year-old, was brought to the hospital, and he was breathing, but he was hit in the head and all over his body by shrapnel. He died later in the hospital. He was treated by the Norwegian team. When he was brought in, he was breathing. The team did their best to save him. I am not really sure if they even tried to rush him to the surgery room, because he was badly hurt."
Mashharawi's video footage originally appeared on British television's Channel 4 and later on CNN. It showed futile attempts by doctors to resuscitate Mashharawi's 12-year-old brother, Mahmoud, after he and his 14-year-old cousin, Ahmed, had been wounded in what the family said was a rocket attack from a remote-controlled drone Sunday.

Watch doctors try and save the boy »
Ahmed also was taken to the hospital, but he had been fatally struck in the head and chest by shrapnel and had lost a foot, Hamdouna said. Hamdouna said the hospital records reported Ahmed's age as 16, not 14, as the family said.
At the time of the attack, the family said, the two boys were playing on the rooftop of the family's three-story house. The video showed a blood-splattered area where an explosion had taken place and where shrapnel had pierced the roof.
Mashharawi has regularly worked with World News and Features since 2004, Martin said. His multimedia company serves television, radio and newspapers.
Martin said accusations that Mashharawi owns a company that hosts Hamas Web sites were falsely based on Mashharawi having worked at a company that created the PS suffix to allow anyone of any political persuasion to create Palestinian Web sites.
The video footage appeared on CNN television networks and on CNN.com for 24 hours before CNN removed the material in the belief that it had no further right to use it. CNN, standing by the video, has since reposted it. Some bloggers had cited its removal as evidence that CNN did not stand by its reporting.
Responding to accusations that the resuscitation efforts of Mashharawi's brother appeared inauthentic, Martin said that, based on his years of reporting from Gaza, doctors often go through such efforts even with little hope that a patient can be saved.
In the video of the incident, the boy appears lifeless when brought to into the hospital.

In a brief conversation with CNN, Mashharawi said that doctors tried everything they could to save his brother and that he rejected suggestions that any of his work was inauthentic.
Before bloggers made their accusations, Mashharawi told CNN, "I believed at that moment if I didn't record that nobody will believe what's happened to my brother. Because it is unbelievable. Until now, I can't believe what's happened."
E-mail to a friend