(CNN) -- Thousands of demonstrators marched through cities across Europe on Saturday, calling for an immediate end to Israel's attacks on Gaza.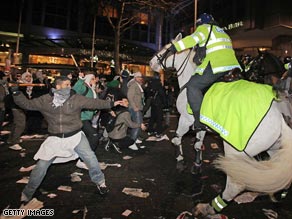 A protester swings a club at a police horse Saturday night near London's Israeli Embassy.
Up to 20,000 people were gathered outside the Israeli Embassy in London, England, at the peak of protests there, London Metropolitan Police said.
A police officer was knocked unconscious Saturday night as the protests turned unruly, the police said.
The London crowd dismantled barriers placed in front of the embassy and began pelting officers with sticks, rocks and pieces of the metal barriers, police said. Three people were arrested.
Organizers including the Stop the War Coalition and the Palestine Solidarity Campaign expected more than 100,000 people to join the London march to protest Israel's ongoing attacks on Gaza.
Celebrities including musician Annie Lennox and Bianca Jagger, musician Mick Jagger's ex-wife, spoke at a rally before the procession, which went from Hyde Park to the Israeli Embassy in Kensington, West London.

Watch demonstrators throw bottles, metal at police »
Lauren Booth, the sister-in-law of former Prime Minister Tony Blair, also spoke at the rally, The Times newspaper reported.
During her speech, Booth criticized Blair over his attempts to bring about a resolution to the conflict.
"Tony Blair's only comment regarding the cease-fire has been to say that it can only take place after the tunnels in Gaza are destroyed," The Times quoted her as saying.
"What he is suggesting means that after the massacre, people will have no access to food, kerosene and medicines that came through those tunnels. That is not a cease-fire; that is a slow agonizing death," she said, according to The Times.
Former London Mayor Ken Livingstone issued a statement backing the demonstration.
"Every day, we see appalling pictures of children slaughtered by Israeli bombs, missiles and other sophisticated weapons," he said. "Yet with more than 700 dead and thousands more seriously wounded, the international community is allowing Israel to continue its completely disproportionate onslaught accompanied by an Orwellian litany of lies."
Meanwhile, the British Press Association reported that similar demonstrations took place in other British cities, including Newcastle and Edinburgh.
Thousands took part in a rally through the center of Edinburgh calling for an end to the military campaign. About 300 shoes and red paint were thrown toward the U.S. consulate in the Scottish capital, the PA said.
Thousands demonstrated in other European cities, according to local media reports, including Innsbruck, Austria; Paris, France; Milan, Italy; Berlin, Germany; and Oslo, Norway. iReport: Protests in Paris
In Washington, pro-Palestinian activists rallied outside the temporary residence of President-elect Barack Obama on Saturday and called on the incoming leader to stop the violence in Gaza.
About 3,000 people carrying signs and chanting "Free Palestine" flooded Lafayette Park between the White House and the Hay-Adams Hotel, where the president-elect is living with his family.
Carrying a flag and wearing a Palestinian keffiyeh head scarf, Abdel-Kader Elkabil exhorted the president-elect to take action.
"Please, Mr. Obama, do something. We love you. We voted for you," he said. "I'm expecting you to do something. ... You're the only one who can do something."
Asma Mobin-Uddin drove to Washington with a group of 500 activists from Ohio. She said she voted for Obama because she believed he could "make a difference."
"President Obama, look in the eyes of your kids and look in the eyes of the kids in that region," she said at the rally. "Please, stop the violence, stop the hate, stop the occupation."

Israelis say their Gaza military operation, which started December 27, is targeting rocket-launching sites, Hamas infrastructure and the movement's leaders in an effort to stop militants from sending rockets into southern Israel.
Palestinian medical sources said that more than 800 Palestinians have been killed in the attacks, including 235 children, and about 3,300 people have been wounded. Thirteen Israelis, including 10 soldiers, have died since the operation began.
E-mail to a friend

CNN's Rachel Streitfeld and Mona Larijani contributed to this report.
All About Israel • Gaza • London • Tony Blair