By Al Goodman, CNN Madrid Bureau Chief





MADRID, Spain (CNN) -- Thousands of demonstrators in Madrid Sunday called for a halt to Israel's attacks on Gaza, in a protest whose sponsors included Spain's ruling Socialist Party.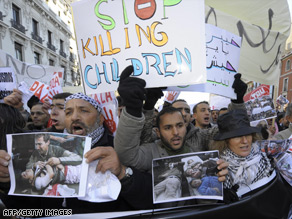 Demonstrators gather in Madrid Sunday to protest against the ongoing conflict in Gaza.
Spain's Socialist Prime Minister, Jose Luis Rodriguez Zapatero, did not attend but among the 65 organizations sponsoring the event was the Madrid branch of his Socialist Party.
Socialist Party banners waved under cold, sunny skies near Madrid's central Puerta del Sol plaza, while nearby banners from other sponsors - including numerous non-governmental organizations - accused Israel of "state terrorism" and called for an end to the "genocide" in Gaza.
Last Thursday, during a visit to Madrid by Palestinian Authority President Mahmoud Abbas, Zapatero sharply criticized Israel, calling its response to Hamas rockets fired at Israel "disproportionate."
Zapatero also voiced his "deepest rejection of the situation taking so many innocent lives."
"We will see how unjust and useless these losses are," Zapatero said.
The Israeli Embassy in Madrid issued a rare statement Sunday criticizing the demonstration, and the participation of some Socialist Party personalities.
"In our dialogue with the Spanish government we had the impression of a real concern over this crisis and an genuine desire to contribute to its solution," the embassy statement said. "It's clear the anti-Israel slogans in the demonstration do not seem compatible with the objectives expressed by the government," the statement said.
The embassy statement also accused the demonstrators of a double standard, asking why the protesters remained silent while Hamas fired rockets "during years" against Israeli civilians.
Spain has seen its role as kind of a broker during previous Mideast flash points, because Madrid has traditionally maintained good ties with Israel and Arab nations.
At a news conference with Abbas on Thursday, Zapatero was asked if his position in this crisis was removing Spain's stance of neutrality.
"To a friend like Israel, you have to tell the truth. And if you think the reaction is disproportionate, you have to say so," Zapatero said.
He spoke by phone later Thursday with Israeli Prime Minister Ehud Olmert, Spain's state-run news agency EFE reported. iReport.com: Share thoughts, reactions to crisis in the Middle East
Spain's Foreign Minister, Miguel Angel Moratinos, a veteran of Mideast negotiations, is scheduled Monday to visit leaders in Syria, Egypt, the Palestinian territories and Israel.

Spain has earmarked €6.5 million ($8.5 million) in humanitarian aid to Gaza.
The protest in Madrid on Sunday did not just blast Israel. Demonstrators demanded an immediate cease-fire in Gaza to allow in humanitarian aid and called on the Spanish government and other powers to take urgent steps to end the hostilities.
E-mail to a friend

All About Israel • Gaza • London • Tony Blair