BAGHDAD, Iraq (CNN) -- Vice President-elect Joe Biden on Monday met with Iraqi President Jalal Talabani in Baghdad, the president's office confirmed.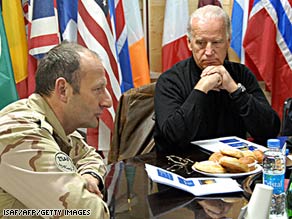 Vice President-elect Joe Biden, right, is briefed Sunday by International Security Assistance Force Maj. Gen. Mart C. de Kruif in Kandahar, Afghanistan.
Biden -- who had been the chairman of the Senate Foreign Relations Committee -- is on a foreign visit that included stops in Pakistan and Afghanistan.
Barack Obama, the incoming U.S. president, is planning to shift the military focus in the region to fighting militants in Afghanistan, while withdrawing all but a residual force of troops from Iraq.
Meanwhile, a string of bombings around Iraq's capital Monday killed eight people, including three Iraqi soldiers who died when their weapons truck was hit, and wounded at least 32, the country's Interior Ministry reported.
The soldiers were killed in a roadside bombing that struck in the Yarmouk district of western Baghdad about 10:15 a.m. (2:15 a.m. ET). The blast set off ammunition for the small arms loaded onto the truck, killing its three soldier occupants and wounding four nearby civilians.
In another incident, three civilians died when a bomb attached to a car went off outside a bakery in the eastern district of New Baghdad, followed shortly by a car bomb. Another 10 people were wounded in that attack, an Interior Ministry official told CNN.
Two other civilians died in separate roadside bomb attacks in central Baghdad -- one near Kahramana square and the other targeting a police patrol in the Sheikh-Omar commercial area. A total of seven people, including three police officers, were wounded in those attacks.
Two other roadside bombs went off near police patrols in neighborhoods on opposite sides of the city -- the Ghazaliya neighborhood in western Baghdad, and the Zayuna district on the city's east side. There were no fatalities in either attack, but 11 people -- including one police officer in Ghazaliya and three in Zayuna -- were wounded.
The U.S. military said an American soldier died as a result of a non-combat related injury on Sunday near Samarra in northern Iraq.
E-mail to a friend

CNN's Mohammed Tawfeeq contributed to this report.
All About Iraq • Joseph Biden