GAZA CITY, Gaza (CNN) -- The rumble of artillery fire and the roar of ensuing explosions continued to roll through Gaza early Tuesday despite pronouncements by an Israeli official earlier that the military operation may be in its final days.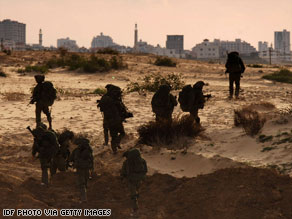 Israeli reserve forces enter the Gaza Strip on Monday, expanding Israel's ground offensive.
Israeli tanks rolled into Gaza City from the al-Karramah neighborhood in the northwest and the Tel al-Hawa neighborhood in the northeast, approaching the headquarters of Hamas' preventative security building.
But after the respite, the explosive sounds that punctuated the nighttime hours underscored a resumption in offensive operations.
"We are tightening the encirclement of the city," Brig. Eyal Eisenberg, commander of the Israeli offensive, told a small group of reporters brought in to Gaza to observe the deployment.
"We are not static. We are careful to be constantly on the move," Eisenberg said.

See the latest explosions over Gaza »
Hamas Prime Minister Ismail Haniya remained defiant, however, declaring in a speech Monday, "I say to our people that by God, we are closer to victory that ever. These precious bloods will not be wasted for nothing."
The Israeli military on Monday paused for a fifth day for a three-hour break from its assault on Gaza to allow residents to pick up humanitarian supplies, a Defense Ministry spokesman said.
But after the respite, the explosive sounds that punctuated the nighttime hours underscored a resumption in offensive operations.
With reports of heavy fighting taking place in Gaza's Zeitoun neighborhood, Palestinian medical sources said Monday that at least five people were killed in fighting, bringing the Palestinian death toll to 903 since the start of the fighting 16 days ago.

See images from the conflict »
Of that toll, more than 45 percent are women and children and about 3,700 other have been injured, medical sources said.
Thirteen Israelis, including 10 soldiers, have died in the operation in Gaza and from rocket strikes on southern Israel.
The Israeli military says its air and ground operation is aimed at stopping rocket fire from the Hamas-ruled territory, but militants have continued to launch rockets and mortar shells into southern Israel.

Watch more on the Israeli offensive »
At least 14 rockets were fired into Israel on Monday, many between 12 p.m. and 1 p.m. towards Sderot, Ofakim and Ashkelon, an Israeli police spokesman said.
One rocket landed on a house in Ashkelon, causing damage but no injuries, an Israeli ambulance services spokesman said.
Israeli Deputy Defense Minister Matan Vilnai said Sunday that Israel may be close to "the end of the operation" because of a U.N. Security Council resolution calling for an immediate cease-fire.

Watch experts discuss the future of the region »
"The decision of the U.N. Security Council doesn't leave us much leeway," Vilnai told Israel Radio. "It would seem then, I'm guessing, that we are close to the end of the ground operation and the end of the operation altogether."
But the U.N. resolution was rejected by Israel and Hamas, which controls Gaza, shortly after it was passed late Thursday by the Security Council.
In an adamant message Monday directed at both sides, U.N. Secretary-General Ban Ki-moon insisted that, "In the name of humanity and international law, this resolution must be observed.
"This means a halt to rocket attacks by Hamas militants and a withdrawal of Israeli forces from Gaza," he said at a news conference in New York. "It is time to stop. It is time to stop the killing and the destruction." iReport.com: Share your thoughts, reactions to crisis
But President George W. Bush, speaking Monday at his final scheduled news conference before leaving office, said that a "sustainable cease-fire" in Gaza could only be accomplished when "Hamas stops firing rockets into Israel."

The "choice is Hamas' to make," Bush said. He also stated that the best way to get a sustainable cease-fire is to "work with Egypt to stop the smuggling of arms into ... Gaza.
"Countries that supply weapons to Hamas have got to stop," Bush said.
E-mail to a friend

CNN's Talal Abu Rahmi in Gaza City contributed to this report.