GAZA CITY, Gaza (CNN) -- An Israeli artillery strike Thursday killed the third most senior Hamas leader in Gaza, Hamas television announced.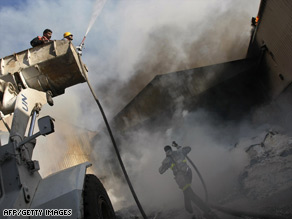 Firefighters try to douse a fire Thursday at the United Nations' main relief agency in Gaza City.
Saeed Siam was killed "in the latest shelling on a house" in Gaza City's Sheikh Radwan neighborhood, said Al-Aqsa TV, which showed images of a body it identified as Siam.
Siam served as interior minister in the Hamas-led government before it was dissolved in 2007. He ranked behind only former Prime Minister Ismail Haniya and former Foreign Minister Mahmoud al-Zahar in Hamas' Gaza hierarchy.
The Israeli military confirmed it targeted a house where Siam was believed to be present.

Watch what little is left of Siam's house »
Hamas vowed to avenge Siam's death.
"His blood will be the fuel for the coming victory," according to a statement on Al-Aqsa TV.
Meanwhile, Israel ground forces -- backed by massive air power and heavy shelling -- pushed deep into Gaza City on Thursday.
Heavy battles with Hamas militants damaged the United Nations' main relief compound, a foreign media building and a Red Cross hospital.

Watch as civilians suffer most »
Don't Miss
U.N. Secretary-General Ban Ki-moon is in the region as part of the diplomatic effort to secure a truce. He met with Israeli officials on Thursday, and condemned the attack on the U.N. Relief and Works Agency's compound in Gaza City that destroyed relief supplies and wounded three people.

Watch as fire blazes at U.N. compound »
Speaking at a news conference in Tel Aviv with Israeli Foreign Minister Tzipi Livni, Ban said Israeli Defense Minister Ehud Barak said the shelling of the compound "was a grave mistake and he took it very seriously."
Israeli government spokesman Mark Regev said that Barak actually told the U.N. chief that "if it was Israel's fire, it was a grave mistake."

Watch Regev respond to accusation »
Israeli Prime Minister Ehud Olmert expressed sorrow over the incident, but maintained that Israeli forces were responding to militant fire near the compound.
UNRWA Director John Ging denied there were any militants at the compound, and also said that at the time there was no fighting in the area.
Ging said UNRWA's headquarters -- located in a densely populated neighborhood -- was hit repeatedly by shrapnel and artillery, including white phosphorus shells -- the use of which is restricted under international law.
"It looks like phosphorus, it smells like phosphorus and it's burning like phosphorus," Ging said. "That's why I'm calling it phosphorus."
Some 700 Palestinians were taking shelter in the compound at the time. Read an aid worker's diary
Ging said that Olmert apologized to Ban over the incident.
There was no immediate comment from the Israeli military on the allegation of the use of white phosphorous, but Israeli spokesman Regev said Hamas recently fired phosphorus shells at Israelis.
In addition, the Foreign Press Association said international news agency offices in Gaza City were hit by Israeli fire Thursday and demanded Israel stop shooting at the building that houses them.
Palestinian security sources said two employees for Abu Dhabi television were wounded in the incident.
As it stepped up its military campaign, Israel on Thursday also dispatched senior Defense Ministry official Amos Gilad to Cairo to discuss a cease-fire proposal.
A Hamas delegation is also in the Egyptian capital, talking with leaders there who are trying to hammer out a temporary truce.
Israel said it initiated the operation into Gaza -- which is controlled by Hamas -- to stop rocket fire on its southern cities and towns.

Thirteen Israelis, including 10 soldiers, have died in the operation in Gaza and from rocket strikes on southern Israel, according to the Israeli military.
More than 1,000 Palestinians have been killed, including many civilians, Palestinian medics said.
E-mail to a friend

CNN's Kevin Flower and Michal Zippori in Jerusalem contributed to this report.
All About Hamas • Israel • Gaza • Ban Ki-moon