Cassandra Nelson is a humanitarian aid worker with Mercy Corps. She spends most of her time deployed in hotspots and hostile areas. She has worked in Iraq, Darfur, Lebanon, South Sudan, Zimbabwe, Liberia, North Korea, Sri Lanka, Banda Aceh, Pakistan, Afghanistan and Iran. Here, in a second installment of her diary, she describes her experiences trying to provide relief in Gaza.
ASHKELON, Israel (CNN) -- Thursday, January 15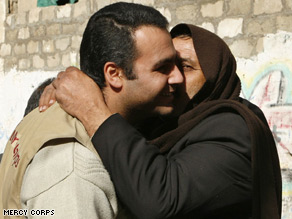 An aid recipient in Gaza hugs Mercy Corps staffer who brought aid to the home she is staying at.
It is noon and things have really started to deteriorate. I just found out about our staff in Gaza and events that are unfolding now:
We just heard from our head of office in Gaza City, and she told us that Hazar, one of our field coordinators, and her family are stuck in their apartment in Gaza City.
They are surrounded by Israeli tanks and there is plenty of shooting going on in their area. They are seeking cover in their corridor from the bullets; the shelling of nearby targets blew out the windows in their apartment.
They are anxiously waiting for the cease-fire to take effect that was announced for today from 11 a.m. to 15 a.m. to seek refuge elsewhere. It is noon now and the shooting has not stopped yet.
Meanwhile the home in Gaza City of the driver who has been transporting our food items from Kerem Shalom checkpoint and delivers them to our warehouse in Khan Yunis was completely destroyed last night and he spent the night in his truck in Rafah.
We are tracking the status of the three trucks we have coming from Rafah filled with medical supplies to be delivered to the Red Crescent hospital in Khan Yunis as soon they have crossed over but we will need to evaluate the situation carefully.
Also, an UNRWA compound in Gaza city appears to have been hit. UNRWA have suspended their operations for today.
I am in Ashkelon on the border and can hear and feel the bombardments every couple minutes. It is making the glass in my windows shake here and I cannot imagine the terror the people in Gaza are feeling now.
Wednesday, January 14
The conflict has been raging for nearly three weeks but it seems much longer here. Everyone is exhausted and shocked that the fighting has been allowed to go on for so long, despite the staggering death tolls. Over 1,000 dead. Over 300 children dead. Where has humanity gone?
Mercy Corps has managed to get two trucks of food aid into Gaza since the Israeli military operation started, but it has been a frustrating and extremely slow process to get the permissions from the Israeli authorities. The number of humanitarian supply trucks allowed to enter Gaza is entirely insufficient given the extraordinary need created by the conflict.
We have resorted to buying whatever items possible within Gaza to supplement our truck deliveries and meet the emergency needs of the families in Gaza more quickly. We have a team of 25 Mercy Corps staff who live and work in Gaza and they have been scouring the local market for any stock available.
They have managed to procure blankets, mattresses, baby formula and other basic essentials, but we don't expect that this is going to be possible for much longer. The availability of goods is rapidly decreasing and the prices are going through the roof.
The other problem we have is that there is simply no cash in Gaza. The banks are all closed; there are no ATMs and simply no way to get cash to our staff to buy the goods or to pay their salaries. Even if we could send them checks there is nowhere to cash them. For the time being, everything is being done on credit, but that won't last much longer either.
Now we are out distributing relief goods in the major areas of Gaza -- Gaza City, Jabalya, Khan Yunis and Rafah -- our team is facing extremely dangerous conditions. Since the Israeli military action in Gaza began, four United Nations staff, plus four U.N. contractors in Gaza have been killed. One international humanitarian aid medical clinic was destroyed and several of their compounds have been damaged. At least four incidents have been reported of aid convoys being shot at or near. Not a minute passes without our being concerned for the safety of our team.
Don't Miss
A few days ago, the Israeli authorities instituted a daily temporary three-hour "lull" in fighting to provide humanitarian workers a chance to distribute aid, but this has not really helped. The slim window of time each day is not nearly enough to address the dire humanitarian situation on the ground and to transport aid deliveries from warehouses in the south of Gaza up to the north or other areas that need supplies.
Also, the time of the lull is constantly changing at the whim of the Israeli military one day it starts at 9:00 a.m., the next day it is at 1:00 p.m., and so on. We are only notified of the new timings moments before it begins, so we can't organize our staff and distributions quickly enough to take advantage of the lull.
Our distributions are very time consuming. In many cases our team is going door-to-door to ensure the most needy families are receiving the aid. Many families are too afraid to venture out to distribution sites. This takes much longer than three hours, so our staff is usually out working well after the lull period has ended and the shelling and bombing have resumed.

Even with an increase in the number of workers packing and distributing, the vast needs of the people can't be met in this short time frame. Moreover, some fighting usually continues during the lulls so humanitarian workers and the civilian population risk their lives moving around Gaza.
Working on the other side of the border where we take security, water, electricity and place to sleep and food for granted, I am overcome with admiration at the courage and strength of the Mercy Corps staff working inside Gaza and hopeful that the Israeli authorities will respect the call of the United Nations and the international community to allow humanitarian aid workers to access Gaza so I can join my team.
E-mail to a friend