By Ben Wedeman
CNN Senior International Correspondent





Editor's note: The Israeli government is not allowing independent media access through Israel to Gaza. CNN Senior International Correspondent Ben Wedeman crossed into Gaza from Egypt.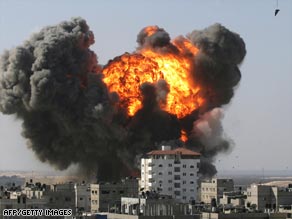 An explosion seen after an Israeli airstrike on Rafah earlier this week.
RAFAH, Gaza (CNN) -- Bloodshed, fear, privation and anger were all clearly visible in Gaza as we finally managed to enter the territory. Unsurprisingly, there were also displays of fist-shaking defiance, but what I had not expected was the high morale.
We arrived in Gaza in darkness, so at first there was little to see -- but plenty to hear. Israeli planes were passing overhead the whole time, and drones could be heard buzzing through the night.
Then there were the explosions. One impacted not far from where we were staying the night. There was a huge blast. You could feel the shockwave passing through the building, shaking the floors and rattling the windows.
The explosions continued after sunrise throughout the border area. At the Abu Yusuf Al Najjar hospital, the largest medical facility in the border town of Rafah, their horrendous effects were visible.

Watch Wedeman describe the blasts »
Don't Miss
We saw one person who had been riding a bike down the road when a rocket landed nearby. He suffered bone fractures and shrapnel wounds all over his body. His right leg needed to be amputated at the upper thigh.
Doctors, more used to dealing with bullet wounds than the current array of weaponry being used by the Israelis, said 20 percent of the injuries they were dealing with were light, 30 percent were serious to critical, and another 30 percent die within the first 30 minutes of arriving at hospital.
At a U.N. school where people were seeking refuge because their neighborhoods were bombed or under threat, crowds mobbed handouts of blankets and rations. Classrooms in the building were each crammed with six or seven families (all large extended families).
We toured an area near the border with Egypt where tunnels had been dug to get supplies into Gaza. There we saw dozens and dozens of houses completely destroyed, huge craters everywhere.
Earlier, when we caught the last bus from Egypt into Gaza, we spoke to Palestinian passengers, most of whom said they had been arrested in Egypt and abused by police before being deported. Their bitterness toward Egypt, particularly its president, Hosni Mubarak, and other Arab leaders over their perceived failure to provide support was echoed among others we spoke to.
This was matched by anger toward the United States, because most people know it supplies Israel with the warplanes bombarding them.
The attacks have badly affected Gaza's electricity supply. The territory gets its power from Egypt, but lines have been knocked out by explosions, leaving connections intermittent in some areas. Water is also a problem, many areas now without any supply.
With the Israeli offensive effectively cutting the territory in half, there is now no way to pass from southern Gaza to the north, other than in an ambulance -- and even the ambulance drivers say that's not a sure thing.
But despite the problems, there are signs of normality, as many people go about their business in defiance of the conflict. Shops were trading, although only one-fifth were open, and people were on the streets.

I'm surprised at how buoyant people are given the circumstances. Talking to them, I find morale high and an overall sense of defiance.
At one point I saw a young boy on a donkey cart, unaware I was observing him. As an Israeli jet passed overhead, he shook a fist at the sky.
E-mail to a friend