JERUSALEM (CNN) -- Israel plans to have its troops out of Gaza as soon as possible after the weekend cease-fire that ended three weeks of fighting in the Palestinian territory, Israeli officials said Monday.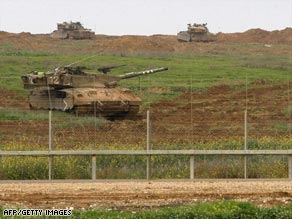 Israeli tanks prepare to leave Gaza on Monday.
An Israeli Foreign Ministry official said that the pullout, which already had begun Sunday, could be finished by Tuesday evening.
The official, who declined to be named, said that the withdrawal could be complete before U.S. President-elect Barack Obama takes his oath of office in Washington at noon ET Tuesday -- 7 p.m. in Israel -- though commanders have not been given that deadline.
The Israel Defense Forces said Sunday that it had begun withdrawing some troops from Gaza, and Israeli government spokesman Mark Regev said Sunday that troops would be out in a matter of days, not weeks.
The moves follow separate cease-fire declarations by Israel, which mounted a three-week offensive aimed at crippling the territory's Hamas rulers, and by Palestinian factions in Gaza that have been firing rockets into southern Israel. Read blog on who won in Gaza?
During 22 days of fighting, Palestinian officials in Gaza have reported more than 1,200 Palestinians killed, while Israel has reported 13 Israelis killed. Palestinian medical sources said 23 bodies were pulled from rubble Sunday in Gaza, adding to the Palestinian toll.
In Washington, a top Obama aide said the president-elect would move swiftly to work on the Middle East after he replaces President Bush in the White House.
Don't Miss
"The events around the world demand that he act quickly, and I think you'll see him act quickly," David Axelrod told CNN. But he refused to promise Obama would name a Middle East special envoy "on Day One."
There is no mutual cease-fire agreement between the Israelis and Palestinians -- each side has made its own unilateral declaration of a cease-fire. Israeli Prime Minister Ehud Olmert said Sunday the Israeli offensive had achieved its goals but reserved the right to respond to any Palestinian violence against Israelis.
Israel said it launched the offensive in Gaza to stop the firing of rockets -- primarily the short-range homemade Qassam rockets -- from the territory into southern Israel by Hamas fighters.

Watch CNN's Nic Robertson report from an Israeli border town »
But Palestinians fired at least 19 rockets into Israel on Sunday -- including at least two after the Palestinian cease-fire declaration, according to Israeli police spokesman Mickey Rosenfeld. At least three people were wounded in those attacks, and Israeli military aircraft retaliated, firing missiles and destroying a rocket launcher, a military spokesman said.
In its declaration, which appeared to cover all Palestinian militant factions, Hamas demanded that Israel remove all troops from Gaza within the week and open border crossings to humanitarian aid and basic goods. iReport.com: Share your thoughts on the Gaza withdrawal

Hamas won Palestinian elections in 2006 and wrested control of Gaza from Palestinian Authority President Mahmoud Abbas' Fatah movement in 2007. Abbas, who still controls the West Bank, called for the cease-fire to hold Sunday.
"We hope that it continues and that the situation calms down and that humanitarian aid delivery begins immediately to our people," Abbas said at a summit in Egypt.
E-mail to a friend

CNN's Kevin Flower in Jerusalem contributed to this report.