By Jill Dougherty
CNN





BAGHDAD, Iraq (CNN) -- Their faces and darker skins make them look different. They are routinely called "slave" by the majority, whatever their profession. But Iraq's black population hopes that Barack Obama's rise to the White House will mark a turning point for minorities not just in the United States, but also in their country.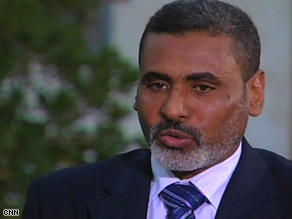 Jalal Thiyab Thijeel quotes Barack Obama, saying it is time for "change."
Jalal Thiyab Thijeel, general secretary of the "Movement of Free Iraqis," followed every detail of Obama's election campaign. "Inspiring," he calls it. Inspiring politically, and personally. Like Obama, Thijeel has family roots in Africa.
"We told our people, Inshalla, God willing, Obama is going to win, and if he wins, it will be a victory for all black people in the world," he recalls. "We're going to make him a model to follow. Even our old women were praying for him to win."
When news broke that Obama had won the election, it was early in the morning of November 5 in Basra -- but Thijeel excitedly called a fellow member of his political party.
It was a moment, he tells me as we talk on a street in Baghdad, that he'll never forget. "Now we, the dark-skinned people, feel even closer to the American people because Obama is one of us."
Thijeel's organization estimates there are approximately 2 million black Iraqis. The country's total population is more than 28 million, most of them ethnic Arabs. It's impossible to verify Thijeel's estimate, since the government does not keep statistics on race, but there is no denying there are many black Iraqis in the southern city of Basra.
Watch with CNN
Watch the historic inauguration of Barack Obama with CNN and the best political team on TV
Tuesday, beginning 8 a.m. ET

Their history goes back 1,000 years to the time when Africans were brought as slaves to the south of Iraq to drain marshes and build Basra.
Many Iraqis still call blacks "abed," an Arabic word that means "slave." Thijeel grimaces when he pronounces it. It's demeaning, he says, and he wants the government to forbid its use. Many white Iraqis claim the word isn't meant to offend, but Thijeel says they have no idea how hurtful it is. "I never want my son to go through this," he says.

Watch what Obama means to some Iraqis »
He also wants his son -- and his daughters -- to have access to good jobs, something that is not the case now, he says. In Basra, many black Iraqis have menial jobs. Although no one can point to any official discrimination, there are no black members of the Iraqi parliament.
The Movement of Free Iraqis was founded two years ago and on January 31 it will run the first slate of black candidates in Iraq's modern history.
Don't Miss
Thijeel hands me the party's documents that spell out its demands. Foremost is that the government recognize blacks as an official minority in Iraq. This is key, because power in Iraq is apportioned along ethnic, religious and even tribal lines. The party also wants an apology for slavery, although it is not asking for financial reparations. The movement also wants laws to combat racial discrimination.
The party has found some nonblack political allies. Awad Al-Abdan of the National Dialogue Front says, "There's been social oppression for a long time. We have a tribal-based society and, according to traditions and customs, the black man is considered to have lower status."

Some white Iraqis say that founding a political party on racial lines is divisive, especially when Iraqis of different communities need to pull together. But Thijeel, quoting Barack Obama, says it's time for change. Although he's speaking in Arabic, he uses the English word "change."
"There's a change in international politics," he tells me. "Obama won, and not that long ago, in his country, black people were marginalized, so this event has shattered all barriers."
E-mail to a friend

All About Iraq • Racial Issues • Barack Obama