Editor's note: Cassandra Nelson is an aid worker with Mercy Corps, an international humanitarian aid organization with headquarters in the United States and United Kingdom. She spends most of her time deployed in hot spots and hostile areas. She has worked in Iraq, Darfur, Lebanon, Sudan, Zimbabwe, Liberia, North Korea, Sri Lanka, Pakistan, Afghanistan and Iran. Here, in the third installment of her diary, she describes her experiences trying to provide relief in Gaza.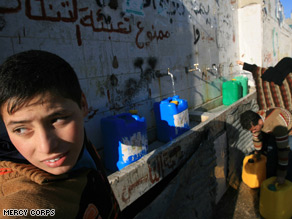 Children collect water in Gaza City where about half a million people are without running water.
JERUSALEM (CNN) -- Monday, January 19: It is the second day of the cease-fire. The Mercy Corps staff in Gaza [is] all very happy with the news. No one is sure if it will last, but for now I can hear the relief in their voices. Unfortunately, massive challenges and frustrations remain.
Despite the Israeli Prime Minister Ehud Olmert's comments, saying aid would be facilitated into Gaza, and the comments of Isaac Herzog, minister of welfare and social services, that "the aid has been rushed in to Gaza together with the relevant agencies," most of the international aid community is still being denied access to Gaza.
Yesterday, I received good news -- or so I thought. My name was cleared by the Israeli Defense Ministry to enter Gaza, along with dozens of other international aid workers.
I immediately set to work to organize the logistics for reaching Gaza City: a driver to pick me and my colleague up on the other side of the border and take us into Gaza City; and coordination with local staff to set priorities for our first opportunity to enter Gaza in months. The last time most expatriate aid workers were able to travel to Gaza was in November.

Watch the scene in Gaza after the three-week conflict »
I also called the Israeli Defense Forces' Coordination and Liaison Administration to Gaza, or IDF-CLA, to arrange for our entry through the Erez border checkpoint. This is when the good news started to unravel.
I spent the entire afternoon dialing and re-dialing all the numbers we were given for the IDF-CLA. After hours of no answer, I finally got someone on the other side of the phone. The lieutenant told me to call back at 9 p.m. and they would tell us if we could enter Gaza. I called at 9 p.m. and got no answer. I called at 9.30 p.m. and no answer. I called at 10.30 p.m., and still no answer.
Don't Miss
This morning I called at 7.30 a.m. and reached someone. Again they told me they didn't know if we would be allowed to cross the border and to call back at 8.40 a.m. At 8:40, I got through and was told to call the major instead.
When I reached the major, he told me we would not be allowed to access to Gaza today -- despite the fact that the border would be open for other people to cross. He said to call back in the afternoon to see about our chances of entering tomorrow. ...
I quickly called the other major international aid organizations working here and found that they were being refused access to Gaza, too.
It is hard to understand why international aid workers are being denied access, while journalists and others are being allowed to enter.
[Editor's note: IDF spokesman Doron Spielman told CNN on Monday: "As the quiet continues we'll be able to open up the border with more security. Let's not forget that every time we've had a lull in our fighting to let humanitarian aid go through, we've been hit with mortars and rockets; we've even seen contraband going through with those supplies. ... As the days continue and quiet is restored to the area, I'm sure ... that more aid will go in to the area of Gaza."]
With an estimated 100,000 people displaced from their homes in Gaza, many who had to flee shelling and leave everything behind, we are keenly aware that the humanitarian aid supplies of food and other essential items, especially formula and diapers for babies and toddlers, is not enough. Nor is the number of local staff present in Gaza enough to meet the immediate needs.
Thousands of displaced people are attempting to go home. The shelters are overcrowded and families have nowhere to stay, so many are on the move home. But they are facing terrible dangers as they go home to areas strewn with unexploded ordnances, missiles, shells and other ammunitions that did not explode but are still "live" and extremely dangerous. International aid teams who specialize in removing unexploded ordnances need immediate access to Gaza or more lives will be needlessly lost.
It has initially been estimated that about 5,000 homes have been destroyed and more than 20,000 homes damaged. Families need immediate assistance and supplies, including plastic sheeting to repair their homes.
But aid supply trucks are still not being allowed to enter in sufficient numbers. On Saturday, less than 20 humanitarian trucks were allowed entry. On Sunday, about 130 trucks entered, but this is the same number as was entering before the cease-fire. Much of the international aid community is incredibly frustrated that the Israeli authorities have not yet made good on their statements.
The Mercy Corps team has to make difficult decisions and work with the resources available. Our top priorities are families who have completely lost their homes in the bombings and the families who have had to flee their homes because they are located in hot spots and are too unsafe.

We are distributing the plastic sheeting we have in Gaza now, but it will be gone in the next couple days.
My teammates, who have been living and working around the clock, under fire, in Gaza throughout this ordeal need support and a rest. How much longer can the Israeli authorities continue to deny international aid workers access to Gaza?
E-mail to a friend