From Jomana Karadsheh
CNN





BAGHDAD, Iraq (CNN) -- Security forces across Iraq plan to be on high alert this weekend as the country holds its provincial elections.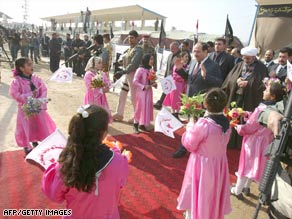 Surrounded by children and armed guards, Prime Minister Nuri al-Maliki campaigns in Hilla, Iraq.
The voting, to be held in 14 of 18 provinces, will take place Saturday. Millions of people are expected to go to the polls to fill 440 provincial council seats from among 14,000 candidates.
Maj. Gen. Ayden Khaled, deputy interior minister, told reporters Iraq's borders and all airports will be closed from 10 p.m. Friday to 5 a.m. Sunday. Travel between provinces will be blocked.
Only pedestrians will be allowed to move freely Saturday. In cities and towns in the 14 provinces, only security forces and ambulance crews, and media and election observers holding proper identification, will be allowed to use vehicles.
Khaled said tough security will be maintained at the polling stations.
"There is no station that is not secured," he said. "There are enough forces. Actually, there is an excess in numbers. We have enough forces to protect the candidates, the voters, polling stations."
Ballots will be guarded by Iraqi security forces backed up by coalition troops. Two rings of security will be set up around each polling station, with Iraqi soldiers forming an outer ring and police an inner ring.
Don't Miss
Soldiers will perform searches if necessary and police will handle security and help election officials check voter documentation.
Security forces, detainees and people in hospitals will vote on Wednesday.
Provincial elections will be held later in Iraq's three Kurdish provinces. The elections have been postponed in Tameem province because of political disputes between Arabs, Kurds, Turkmens and Christians there.
E-mail to a friend

All About Iraq • Multi-National Force Iraq • Independent Electoral Commission of Iraq