TEHRAN, Iran (CNN) -- Iran has strongly condemned the decision by the European Union to remove the People's Mujahedeen of Iran from its list of terrorist organizations.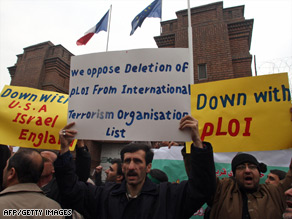 Demonstrators protest against EU decision outside the French embassy in Tehran on January 25.
In a fax to CNN, Iran's Foreign Ministry accused the European Union of "making friends and cooperating with terrorists" by removing the group from its list.
The PMoI, also known as Mojahedin-e Khalq Organization, has opposed the Iranian government for decades.
The European Union said it took the step because of an order by the European Court of Justice on December 4. The court agreed with the PMoI that the European Union did not give sufficient reasons for including the group on the terrorist list, and it ordered the EU to remove the group.
"The court did not enter into the question of defining or not the PMoI as a terrorist organization," said Jesus Carmona, a spokesman for the Council of the European Union. "The only thing that the court decided ... was that procedures were not respected."
Following Monday's move to delist the PMoI, 47 groups remain on the European Union's list of groups considered terrorist organizations. The United States has 44 groups on its list, including the People's Mujahedeen of Iran.
Don't Miss
The Iranian foreign ministry said the EU decision to take the group off the list is tantamount to encouraging terrorism and will create an opportunity for terrorists in Europe to commit terrorist acts against European citizens.
It accused the European Union of acting against international law.
"The Islamic Republic strongly condemns this unacceptable action of the European Union and is deeply disappointed that the Union, in order to reach its own illegitimate political objectives, has parted company with the world community in the fight against terrorism and is making friends and cooperating with terrorists," the foreign ministry said.
"The Islamic Republic, therefore, believes that the EU no longer has the legitimacy or qualification to be a part of the fight against terrorism."
Czech Deputy Prime Minister Alexandr Vondra, speaking for the Czech presidency of the EU, said the European Union may decide to include the PMoI on its list in the future, "but for today, we had to comply with the ruling of the court."
E-mail to a friend

-- CNN's Shirzad Bozorgmehr in Tehran and Melissa Gray in London, England contributed to this report.
All About Iran • European Union