By Joe Sterling
CNN





(CNN) -- Saddam Hatim sauntered down a Baghdad street and stopped to admire the posters of candidates for Iraq's provincial elections set for Saturday.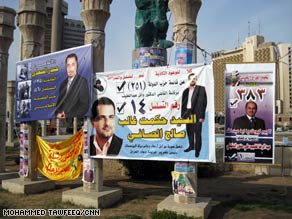 Election posters, like these in central Baghdad, are plentiful as the voting nears.
"It is beautiful," said Hatim, pleased and proud over the tumult of the grass-roots campaigning and the pictures of candidates slapped on the sides of buildings.
Hatim's enthusiasm for the election is particularly telling because he's a Sunni Arab -- the once-disaffected group that largely shunned Iraq's provincial races four years ago.
But Hatim and other Sunni Arabs will be among about 15 million registered voters turning out Saturday for the elections -- seen as a test of the country's young democracy, the performance of its security forces, and a harbinger of parliamentary elections to be held later this year.
About 14,000 candidates will be competing for 440 provincial council seats in 14 of Iraq's 18 provinces.
Officials working for sectarian reconciliation in the diverse, war-ravaged country maintain that Sunni Arab participation in local politics is a key element in bringing stability to Iraq.
U.S. Defense Secretary Robert Gates told reporters last week that he viewed the elections as "a chance for particularly the Sunnis to become engaged more in the political process, in contrast to 2005."
Steffan de Mistura, head of the U.N. Assistance Mission to Iraq, told CNN Monday that strong participation by Sunni Arabs and the other groups will be positive psychologically.
"It means all communities this time will have to compete and they will have to compete again in an electoral way, not a violent way, and that obliges everybody to play politics, of course, Iraqi politics," de Mistura said. "We are not in Switzerland yet, but it's still politics and that's healthy."
Don't Miss
Once a powerful minority with a strong power base during Iraq's Saddam Hussein era, Sunni Arabs quickly became alienated after Hussein was overthrown six years ago.
Many lost their jobs in the civil service and education because of de-Baathification policies, aimed at punishing members of Hussein's Baath Party, and others found themselves out of work because the Iraqi military was disbanded.
Shiites and Kurds, working much in tandem politically after Hussein's regime was toppled, rose in power, a natural development that reflected their numbers.
There has not been a recent census in Iraq, but Shiites are thought to make up about 60 percent of the population and Sunni Arabs between 15 and 20 percent.
Sunni Arabs had a tough time adjusting to the new reality; some embraced the insurgency and battled Shiites in brutal sectarian warfare.
But in recent years, American and Iraqi officials have been working toward the goal of national reconciliation, with Sunni inclusion being the top priority.
As a result, Sunni Arab public opinion has been changing the past six years. Many Sunni Arabs have realized it is in their interest to take part in the electoral process and have found that their presence is accepted.
Many former insurgents have embraced the "awakening" tribal movement and the subsequent Awakening Councils, or Sons of Iraq groups -- the U.S.-backed militias in the Sunni heartland.
The awakening groups have morphed from security patrols to political movements and will compete with the more established Sunni Arab groups such as the Iraqi Islamic Party.
Some of the more hard-line militants have set aside their arms in favor of the political process, regretting the fact that foreign-influenced groups spilled Iraqi blood in the name of the "resistance."
"We had to keep the country from splitting, and weapons don't always achieve one's aims," said Jasim al-Mashhadani, a self-proclaimed member of the "resistance" and a former army officer under Saddam Hussein.
Sunni participation is not the only key factor in the elections.
Authorities hope the polls are one more step in strengthening and building Iraq's political system as the U.S. military presence there is expected to wane under President Barack Obama's administration -- which is making the conflict in Afghanistan its top national security priority.
The campaigning also has reverberated in the mostly southern Shiite power bases, where various political factions are jockeying for power amid deep divisions over issues such as federal regions and Iran.
The competition is high, mainly between Prime Minister Nuri al-Maliki and the Islamic Supreme Council for Iraq in the south, but there are some provinces where followers of Muqtada al-Sadr and the Fadhila Party also are competitive.
The four provinces not taking part in this week's elections include the three majority-Kurdish ones, which are expected to hold their polls at another time. In addition, elections have been delayed in the ethnically mixed province of Tameem because of various disputes there between Kurds, Arabs, Turkmens and Christians.
Samuel Brannen -- a fellow at the International Security Program of the Center for Strategic and International Studies -- says this election is serving as a test of democratic continuity in Iraq.
"Sunnis realized they made a big mistake by sitting out of the political process," Brannen said. "I think that you will see the Sunni awakening groups come in and have to learn what it's like to be in a democratic political system."
One Sunni Arab man strolling through Baghdad, Ali Sabah, 26, told CNN he is looking forward to casting a ballot.
"Democracy is the correct way, this is for sure," he said.
E-mail to a friend

CNN's Jomana Karadsheh, Mohammed Tawfeeq and Arwa Damon contributed to this report
All About Iraq • Sunni Islam