By Elise Labott
CNN State Department Producer





WASHINGTON (CNN) -- The Obama administration will announce an additional $20 million in humanitarian aid for Palestinians in Gaza on Friday, two U.S. officials told CNN Thursday.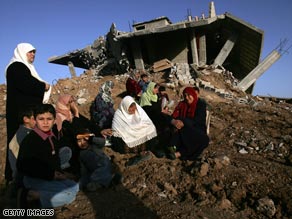 A Palestinian family sits Thursday amid ruins of their Gaza home, destroyed in Israel's strike against Hamas.
George Mitchell, the administration's envoy for Middle East peace, is expected to make the announcement in the region after President Barack Obama issues the authorization, the officials said.
The aid is expected to be distributed through the International Committee for the Red Cross and the U.N. Office for the Coordination of Humanitarian Affairs.
The United States Agency for International Development provides food and medical aid to Gaza.
The aid to the Palestinians comes as Mitchell confers with Palestinian and Israeli officials in the region in an attempt to maintain the Hamas-Israel cease-fire and restart a stalled peace process.
Mitchell met Thursday with Palestinian President Mahmoud Abbas in the West Bank city of Ramallah and with Israel Defense Forces Chief of Staff Lt. Gen. Gabi Ashkenazi as sporadic fighting continued in Gaza, still smoldering in the aftermath of warring between Israeli soldiers and Hamas militants.
A tentative cease-fire between Israel and Hamas-ruled Gaza began on January 21 after the three-week military operation. More than 1,300 Palestinians died and about 5,400 others were wounded. Thirteen Israelis, including 10 soldiers, were also killed.
Mitchell told reporters in Ramallah that he told Abbas during a "lengthy discussion" of the need to pursue "a sustainable and durable cease-fire" and of Obama's "deep concern" over "the loss of Palestinian life and the humanitarian needs in Gaza."
While maintaining that Israel has a right to defend itself, both Obama and Secretary of State Hillary Clinton have spoken about the dire humanitarian situation in Gaza. On January 21, when he named Mitchell as his envoy, Obama called for Gaza's border crossings to be reopened as soon as possible.

Watch U.N. secretary-general explain his call for aid »
"I was deeply concerned by the loss of Palestinian and Israeli life in recent days and by the substantial suffering and humanitarian needs in Gaza," Obama said. "Our hearts go out to Palestinian civilians who are in need of immediate food, clean water, and basic medical care, and who've faced suffocating poverty for far too long."

Watch how medical treatment is being crippled in Gaza »

The next day, Clinton said the United States would give more aid to Palestinians in Gaza.
"The United States is currently the single largest contributor to Palestinian aid, and we will be adding even more because we believe that it's important to help those who have been damaged and suffering," she told reporters.
E-mail to a friend