From Mohammed Tawfeeq and Jomana Karadsheh
CNN





BAGHDAD, Iraq -- Attackers in Iraq killed three Sunni Arab provincial election candidates and two election workers Thursday in violence that has startled an eager electorate in the run-up to the polls Saturday.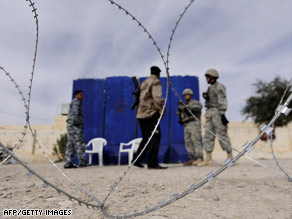 U.S. soldiers patrol a polling station in Diyala province, where two election workers were found dead Thursday.
Iraqi, U.S. and U.N. officials have consistently warned against a possible uptick in attacks ahead of Iraq's all-important provincial elections. Security forces ramped up efforts to protect candidates and election centers. Overall, there has not been widespread election-related violence.
Omar Farouq al-Ani, an Iraqi Islamic Party member running for a council seat in the capital, was gunned down near his Amriya home in western Baghdad, an Interior Ministry official said. Al-Ani, whose party is the most prominent Sunni Arab movement in Iraq, was driving home from an election rally when he was attacked.
Hazem Salem Ahmed, a Sunni Arab from the National Unity list, was shot dead outside his home in the northern city of Mosul, police said.
Abbas Farhan al-Jabouri of the Development and National Reform list and two election workers were found shot dead in the Diyala province city of Mandali a few hours after they were kidnapped, police said.
Sunni Arabs, more powerful under Saddam Hussein's rule, largely shunned the provincial elections four years ago when Shiites and Kurds rose in power. However, they have been very active in campaigning now as they have become more accepted into Iraq's new political fold.
It is not known whether the attackers were rival supporters, militants who oppose the staging of the elections, or killers intent on sectarian retribution.
Another incident on Wednesday night is also thought to be election-related. The Iraqi Islamic Party is questioning whether a woman gunned down in western Baghdad was slain because attackers mistook her for one of its candidates.
Don't Miss
Mayyada al-Bayati was killed when the attackers stormed her house in the Yarmouk neighborhood, an Interior Ministry official told CNN on Thursday.
A party official said al-Bayati is the sister-in-law of one of its female candidates seeking a Baghdad council seat. Party officials believe al-Bayati was killed because the attackers mistakenly thought she was the candidate. Tariq al-Hashimi, one of Iraq's two vice presidents, is the Iraqi Islamic Party's most prominent member.

Of the more than 14,400 candidates participating in the local elections, nearly 4,000 of them are women.

Watch members of Iraq's security forces vote »
Iraq's provincial elections are scheduled for Saturday. At stake are 440 seats on local councils, which name the regional governors.
E-mail to a friend

All About Saddam Hussein • Iraqi Islamic Party • Baghdad