BAGHDAD, Iraq (CNN) -- Iraq will be colored purple on Saturday.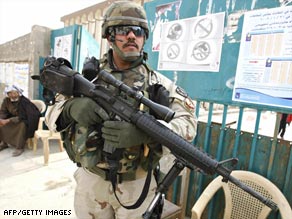 An Iraqi soldier guards a Baghdad polling station Friday in preparation for the upcoming provincial elections.
Millions are expected to head to the polls to cast ballots in the war-ravaged country's important provincial elections. Each voter will emerge with one finger swiped with purple ink as proof of voting.
Iraqi, American and U.N. officials consider the vote a major event in the short history of the new Iraq. Staffan de Mistura, the top U.N. official in Iraq, told CNN the polls are "iconic" and could represent "a symbolic message."
"It is the opportunity for the Iraqis to show that democracy can go forward, and we can move forward from bullets to ballots," de Mistura said.
Ryan Crocker, the U.S. ambassador to Iraq, added, "People are really enthusiastic. It is extremely difficult to get the attention of any senior political figure in this country for anything that isn't related to elections."

Watch as CNN's Arwa Damon looks at election preparations in Baghdad »
Security has been jacked up for the balloting, which will be held in 14 of Iraq's 18 provinces.
There will be tough security measures throughout the country, including security rings around polling stations, with vigorous searches conducted. Only emergency, military and officially marked security vehicles will be permitted on roads.
There have been assassinations and other campaign-related attacks, but authorities said the violence hasn't gotten out of control, even though a string of shootings Thursday left three Sunni Arab candidates dead.
More than 14,400 candidates from more than 400 political entities have been registered and approved, and 15 million Iraqis have registered to vote.
The first provincial elections held after the fall of Saddam Hussein's regime were staged in January 2005.
But as the International Crisis Group pointed out in a Tuesday report about the elections, the results four years ago were less than perfect, as many people failed to embrace the polls -- including disaffected Sunni Arabs, who had prevailed under Hussein but felt shunted aside under the new government.
"Key constituencies such as Sunni Arabs and the Shiite urban-slum underclass largely stayed away and thus were excluded from power in current councils," the report said. "The result was imbalanced provincial bodies often unreflective of popular needs, as well as an accumulation of local grievances."
Several changes in Iraq's environment and in the laws governing provinces and the elections have raised hopes.
Among the changes are the decrease in sectarian violence in Iraq and increased stability. Another is what the crisis group said is a "proliferation of independent lists and candidates" -- a sign of "greater diversity and a move away from dominant parties."
"In the past four years, politics have evolved from a violent conflict focused largely on the capital to an essentially democratic contest over positions and institutions, including at the local level," the crisis group report said.
In 2005, people voted strictly for parties, or "closed lists." But in this election, voters may be allowed to choose individuals as well as party lists.
"Iraqis will be able to say who they want," de Mistura said, saying people and not just parties will "become accountable."
Around 4,000 of the candidates are women, who are, according to the International Crisis Group report, "assured seats via a quota system."
"Regardless of votes collected by their candidates, parties are enjoined to give every third seat to a female candidate on their list, although the share of seats that will ultimately be filled by women in each council will depend on the distribution of votes among parties," the report said.
Another incentive for voters and candidates is that the powers of councils "will far exceed those of the incumbent councils."
They may elect and remove senior provincial officials, including the governor, and "are empowered" to ratify the provincial budget -- now prepared by the governor and not federal ministries, the crisis group said.
Along with fears over security breakdowns during Saturday's voting, there are concerns about fraud and political corruption, the crisis group report said.
"Ruling parties have a tight grip on power and may use government institutions, patronage, alliances, subterfuge and perhaps outright fraud to maintain it," it said.
Also, minority groups -- such as Christians -- are displeased with the number of seats reserved for them and said they're concerned also about electoral fraud, security problems and political intimidation.
Still, these elections are expected to be much more successful and meaningful than the ones four years ago, even if problems emerge.
Many observers said they believe the provincial vote will be a gauge of the country's direction politically and a guide to how to the parliamentary elections will turn out later this year.
The results should spell out the status of the Sunni Arab "awakening" movement and the popularity of the Shiite factions, such as those backing Prime Minister Nuri al-Maliki, Shiite cleric Muqtada al-Sadr and the Islamic Supreme Council of Iraq.
Among the four provinces not participating in these elections are the three Kurdish provinces. Voting is expected in those provinces later this year. The poll was suspended in Tameem province, where there have been unresolved political disputes in Kirkuk. Kurds, however, will be playing key roles Saturday in mixed provinces such as Nineveh and Diyala.
The crisis group report said the elections will create "a new generation of politicians" and a breed of "homegrown lawmakers" who will assume their jobs "with less baggage and better credentials than the current leadership and might be better equipped to, and more willing to, make compromises."

"The conduct and outcome of those elections I think are going to be very important for the country, in particular that they be ... perceived as free and fair in at least a general sense," Crocker said, speaking to reporters last week.

"They are not going to be perfect elections, and I think we all know that, but it is important that they be credible elections."
E-mail to a friend

CNN's Arwa Damon, Jomana Karadsheh, Mohammed Tawfeeq and Joe Sterling contributed to this report.
All About Iraq • Saddam Hussein • Nuri al-Maliki