(CNN) -- Al Qaeda's second-in-command, Ayman al-Zawahiri, released a new audio message Tuesday, condemning Israel and calling for renewed attacks.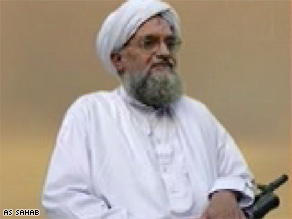 Ayman al-Zawahiri criticized President Obama for failing to mention the Gaza conflict at his inauguration.
The message shows a grouping of photographs that include an old photo of al-Zawahiri, three dead children and a collage of world leaders: French President Nicolas Sarkozy, Israeli Prime Minister Ehud Olmert, Palestinian Authority President Mahmoud Abbas, King Abdullah of Saudi Arabia and Egyptian President Hosni Mubarak.
Speaking critically of the recent conflict in Gaza, al-Zawahiri blamed "western collaboration" in supporting Israel and blamed Israel's allies for not distinguishing "the killer from the victim."
He also criticized U.S. President Obama for not mentioning Gaza during his inaugural address.
Al-Zawahiri's references to the Obama inaugural speech and the Israeli pullout from Gaza suggest that the message was recorded on or after January 20.
CNN cannot authenticate the message, but CNN analysts who listened to the recording say the voice is consistent with his intonation and accent.
This is the second message from al-Zawahiri in 2009.
Another was released January 6, calling the fighting between Israel and Palestinians then under way in Gaza a "massacre."
Obama's transition team did not directly respond to the message. Ahead of its release, Obama said he was "deeply concerned" about the loss of life in both Gaza and Israel, and promised to make the issue a top priority in his administration.
E-mail to a friend

All About Al Qaeda • Ayman al-Zawahiri