JERUSALEM (CNN) -- The U.N. agency that provides humanitarian aid to Middle East refugees has suspended relief to Gaza after two incidents this week in which the ruling Hamas government seized the supplies, the U.N. group said Friday.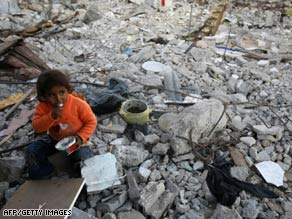 A Palestinian girl eats as she sits on the rubble of houses in Gaza on Wednesday.
The U.N. Relief and Works Agency won't resume deliveries until the stolen supplies are returned, and the agency is "given credible assurances from the Hamas government in Gaza that there will be no repeat of these thefts," the agency said in a written statement.
Secretary-General Ban Ki-moon underscored that position, issuing a statement demanding Hamas "immediately release" the supplies it has seized.
"All parties must refrain from interfering with, or hampering the provision and distribution of, urgently needed humanitarian assistance to the civilian population in Gaza," Ban said in a statement.
In the latest incident, the UNRWA said truckloads of flour and rice were taken overnight on the Palestinian side of the Kerem Shalom border crossing that links Gaza and Israel.
The food came from Egypt and was to have been collected and distributed by the agency Friday. Instead, it was taken away by trucks contracted by the Ministry of Social Affairs, according to the U.N. statement. Two hundred metric tons (220 U.S. tons) of rice and 100 metric tons (110 U.S. tons) of flour were seized, the agency said.
The prior incident took place Tuesday, when 3,500 blankets and more than 400 food parcels were taken at gunpoint from a distribution center in Beach Camp, Gaza.
The agency issued a statement after that incident that said: "This took place after UNRWA staff had earlier refused to hand over the aid supplies to the Hamas-run Ministry of Social Affairs."
The agency said police subsequently broke into the warehouse and took the supplies, which were to have been distributed to 500 area families.
"UNRWA has a strict system of monitoring aid delivery and ensuring that its assistance reaches only the intended beneficiaries," the agency said Tuesday. "Our officials were on the ground overseeing the delivery of our aid and taking all possible steps to avoid its diversion."
UNRWA's mandate is to assist and protect 4.6 million refugees in Jordan, Syria, Lebanon and the occupied Palestinian territory, according to its Web site.
E-mail to a friend

CNN's Kevin Flower contributed to this report.