JERUSALEM (CNN) -- Benjamin Netanyahu's right-wing Likud movement maintains a slim lead ahead of next week's parliamentary elections in Israel, but Tzipi Livni's ruling centrist Kadima party still has a chance to pull out a victory, a win that would give it the first opportunity to form a new coalition government, according to polls published on Friday.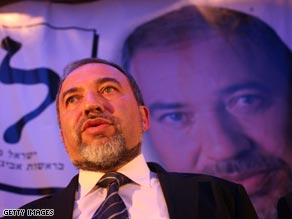 Avigdor Lieberman's Yisrael Beiteinu is gaining momentum in the polls at the expense of Likud.
Yisrael Beiteinu, a surging nationalistic political movement drawing support from Israelis who resent the country's Arab population and Palestinian militants in Gaza, could be the wild-card in the race as it works to sap support away from Likud by the time voters hit the polls on Tuesday.
"The close race between Likud and Kadima has finally injected some long-overdue excitement into the campaign. A few weeks ago, Likud seemed to have victory sewed up. Now it is in real danger of losing out to Kadima," according to the newspaper Ha'aretz.
Friday marks the last day by law in which election poll results can be issued, and the country's major daily newspapers -- Yediot Ahronoth and Ma'ariv, as well as Ha'aretz -- have issued polls that depict a tightening political horse race in a country where many voters dazed by the war in Gaza and enduring economic and political instability still remain undecided in what Yediot calls Israel's ever-changing "political geography."
Israel has a 120-seat parliament, called the Knesset, and a government must be formed with at least 61 seats. If no single party has enough to reach that threshold, coalition-building will ensue. The intense political jockeying after a vote is an Israeli political tradition.
The polls have minor variations but show general trends. They depict the right-wing Likud movement, led by former prime minister Netanyahu, maintaining a slim lead over the centrist Kadima ruling party -- led by Livni, the current foreign minister.
Yisrael Beiteinu, led by Avigdor Lieberman, is in third place and is gaining momentum at the expense of Likud in the aftermath of the bloody fight with Hamas in Gaza.
His party has agitated many Israeli Arabs by questioning and demanding their loyalty and has called for Israel's boundaries to be redrawn to exclude many of them -- a move that would strip them of their citizenship.
Don't Miss
Other parties in the politically diverse Israel trail are the once-dominant and now sliding left of center Labor Party and a member of the Kadima coalition, in fourth place, and Shas, an Orthodox religious movement, in fifth, according to the three major newspapers.
The remainder include the Israeli Arab parties, the left-wing Meretz, the Greens, and Hadash, and smaller right-wing parties called United Torah Judaism, Jewish Home, and National Union.
The undecideds, spread right to left across the political spectrum, number between 15 and 20 percent.
"The voters' party loyalty is weak, non-committal and no longer passes by inheritance from generation to generation," Yediot said.
It is impossible to gauge what the form of the coalition government would be, and there are many predictions and possible combinations -- such as coalitions that would be national unity, centrist, left of center and right-wing. But one development seems certain: Yisrael Beiteinu would be the "new scale-tipping party," Ma'ariv said.
According to Ma'ariv's numbers, "if Yisrael Beiteinu is not counted, the right-wing bloc headed by the Likud amounts to 47 seats while the left-wing bloc headed by Livni amounts to 54."
"The poll further reveals that most of the Israel public, more than it wants one party or the other, wants a national unity government," no matter who would be in charge.
"Israelis want the next government to be comprised of Likud, Kadima and Labor," Ma'ariv said.
E-mail to a friend