BAGHDAD, Iraq (CNN) -- U.S. forces shot two Shiite pilgrims on Saturday night as they walked to Karbala for an upcoming holy day, an Interior Ministry official said.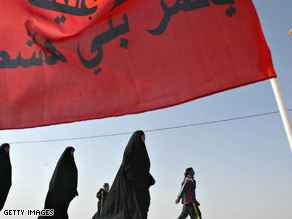 Iraqi Shiite Muslim pilgrims make their way towards the holy southern city of Karbala on Sunday.
The victims were a man and a woman, and the man later died of his injuries, the official said.
A weapon unintentionally discharged in the area, and two local nationals were reported to have injuries, but "it's unclear whether the weapons discharge and injuries are directly connected," the U.S. military said in a news release.
The military said the incident is under investigation.
The weapon belonged to a U.S. vehicle patrol which had been traveling southeast near Afak -- east of the southern city of Diwaniya -- on a logistics convoy, according to the military.
The couple had been heading to Karbala for al-Arbaeen, one of the holiest days in the Shiite religious calendar. It falls on February 16 this year.
The Interior Ministry officials said the shooting took place east of Diwaniya, about 110 miles (180 kilometers) south of Baghdad.
Two other pilgrims were killed on Sunday in Baghdad by a roadside bomb, which the Iraqi Interior Ministry said targeted the pilgrims.
In recent years, insurgents have targeted pilgrims on their way to Karbala, 60 miles southwest of Baghdad. The pilgrims walk the distance as a demonstration of piety and as part of tradition.
Al-Arbaeen commemorates the end of a 40-day mourning period for Imam Hussein, the grandson of the Prophet Mohammed and one of the most revered Shiite figures, who died in battle in the 7th century. He is buried in Karbala.
Last year, a flurry of attacks on pilgrims killed at least 48 people. In 2007, more than 180 pilgrims were killed in a series of attacks, most by suicide bombings in Babil province, through which the pilgrims pass.
Also Sunday, a court official told CNN that the Iraqi journalist who hurled his shoes at former President Bush will be tried in two weeks.
Muntadhar al-Zaidi faces charges of assaulting a foreign head of state on an official visit to Iraq. The trial is scheduled to begin on February 19, according to the spokesman for Judge Abdul Sattar al-Beeraqdar of Iraq's Higher Judicial Council.
Al-Zaidi has been detained for nearly two months and his appearance in court will mark the first time he has been seen in public since his arrest.
He threw both of his shoes at Bush in mid-December during a news conference with Iraqi Prime Minister Nuri al-Maliki in Baghdad. Neither shoe hit the president, and others in the room quickly knocked al-Zaidi to the ground before security officials arrested him.
By tradition, throwing a shoe is the most insulting act in the Arab world.
Al-Zaidi's angry gesture touched a defiant nerve throughout the Arab and Muslim world. He is regarded by many people as a hero, and demonstrators last month took to the streets in the Arab world and called for his release.
In December, al-Zaidi's defense team filed an appeal requesting the charge be changed from "assaulting" a head of state to "insulting." Al-Zaidi's chief defense attorney, Dhiyaa al-Saadi, said the appeals court ruling left it up to the court trying al-Zaidi -- the Central Criminal Court of Iraq -- to decide what charges he will be facing.
According to the Iraqi penal code, anyone who assaults a foreign head of state is punished by "imprisonment for a term of years," with the sentence length up to the court. Al-Saadi told CNN in December that his client could face 15 years in jail if convicted. On the other hand, "insulting" a foreign head of state is punishable by a two-year prison sentence and a fine.
Al-Saadi said he has been allowed only one meeting with his client, in December, during the nearly two months that al-Zaidi has been in custody.
Al-Zaidi marked his 30th birthday in jail last month. One of his brothers told CNN he "in good health and is being treated well."
Al-Zaidi's employer, TV network al-Baghdadia, keeps a picture of him at the top left side of the screen with a calendar showing the number of days he has spent in detention. The network has been calling for his release.
E-mail to a friend

CNN's Jomana Karadsheh and Mohammed Tawfeeq contributed to this report.
All About Baghdad • Karbala • Nuri al-Maliki • Iraq