BAGHDAD, Iraq (CNN) -- French President Nicolas Sarkozy made a surprise visit to Baghdad Tuesday on a trip seen as aimed at raising his country's stake in Iraqi reconstruction and easing frictions with Washington over the U.S.-led invasion of 2003.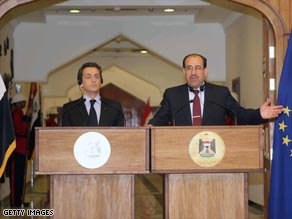 French President Nicolas Sarkozy and Iraq's PM Nuri al-Maliki.
Sarkozy, the first French president to visit the country, met with Iraqi Prime Minister Nuri al-Maliki during the brief trip ahead of a tour of Gulf states.
The French leader described his visit as a vanguard of French economic involvement in rebuilding Iraq and an attempt to strengthen European ties.
But it is also likely to be seen as a conciliatory gesture, emphasizing France's willingness to work with the new Barack Obama administration after opposition to the Iraq invasion led to a breakdown U.S.-French relations.
Sarkozy's predecessor Jacques Chirac was a fierce critic of the 2003 military offensive that toppled Saddam Hussein. France's refusal to join the invading coalition led to U.S. boycotts of French wine and cheese.
Under Obama, the United States is seeking to significantly reduce its presence in Iraq, drawing down troop numbers, in a move seen as an attempt to distance itself from the policies of former President George W. Bush.
At a press conference Tuesday, Sarkozy stressed the importance of France's role in improving relations between Iraq and the West, particularly Europe.
"It is now that we must help Iraq, it's now that we must commit," he said, according to Agence France-Presse.
"I came to show France's willingness to take part in the economic development of Iraq, in the rehabilitation of its infrastructure," he said. "Our collaboration has no limits."
Al-Maliki hailed Sarkozy's visit as "historic" because it was the first by a French president and first official visit by a European head of state who had not been a member of the U.S.-led coalition.
E-mail to a friend

-- Jomana Karadsheh in Baghdad contributed to this story