BAGHDAD, Iraq (CNN) -- A double car bombing killed 16 people and wounded 43 others Wednesday at a Baghdad bus station where Shiite pilgrims had gathered ahead of an upcoming holy day, according to an official with Iraq's Interior Ministry.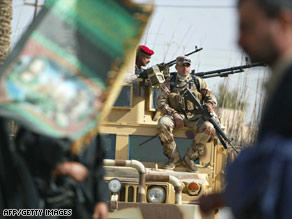 Security is high as Iraqi Shiite pilgrims arrive at the entrance to Karbala on Wednesday.
It was one of several attacks in Baghdad targeting the pilgrims, who were heading to Karbala for al-Arbaeen, one of the holiest days in the Shiite religious calendar. It falls on Monday.
Two other pilgrims were killed and 16 were wounded on Wednesday in roadside bombings in the Iraqi capital, the official said.
At least 26 Iraqi civilians, police, soldiers and a senior Sunni politician died in attacks across the country on Wednesday, making it the deadliest day since January 4, when a Kadhimiya female suicide bomber killed 40 people.
The United Nations' top envoy to Iraq, Staffan de Mistura, "strongly condemned" Wednesday's attacks on Shiite pilgrims, which he described as "clearly designed to provoke sectarian tensions."
In recent years, insurgents have targeted Shiite pilgrims, who usually walk to Karbala from across Iraq as a demonstration of piety and as part of tradition.
Karbala is located about 60 miles (100 kilometers) southwest of Baghdad.
A roadside bomb targeting the pilgrims killed two on Sunday, according to Iraq's Interior Ministry.
Al-Arbaeen marks the end of a 40-day mourning period for Imam Hussein, the grandson of the Prophet Mohammed and one of the most revered Shiite figures, who died in battle in the seventh century. He is buried in Karbala.
Last year, a flurry of attacks on pilgrims killed at least 48 people. In 2007, more than 180 pilgrims were killed in a series of attacks, most by suicide bombings in Babil province, through which the pilgrims pass.
More than 30,000 Iraqi Security Forces have been deployed in and around Karbala this year to protect the anticipated millions of pilgrims heading there for Monday's commemoration, according to Karbala military commander Gen. Othman al-Ghanemi.
Security rings have been set up around the city's shrines, and anyone coming into Karbala will have to go through a number of checkpoints, he said. In addition, cameras and aerial surveillance will monitor the crowds in the holy city, he said.
It is unclear what group is behind the recent attacks on the Shiite pilgrims, but it is a sign that the sectarian conflict in Iraq is not over. There are many groups that benefit from instability in Iraq, and there are also many spoilers who may not have participated in the recent election process. Tens of thousands of civilians on the move would provide a target of opportunity for any group trying to create chaos in Iraq.
Also, the Sunni militant group al Qaeda still has a considerable presence in the country. Outgoing U.S. Ambassador Ryan Crocker recently told reporters in his last press briefing that neither Iraqi nor coalition forces "can take our eye off" maintaining security in Iraq, despite recent gains against insurgents in Iraq.
"As we tragically have seen, there are still elements out there, particularly al Qaeda, capable of delivering devastating attacks," Crocker said last month. "They had been much diminished, much weakened, but as long as they can cling to some hand to hold here, they are going to keep trying to literally try to fight their way back."
E-mail to a friend

CNN's Ingrid Formanek, Mohammed Tawfeeq and Jomana Karadsheh contributed to this report.