JERUSALEM (CNN) -- The leaders of Israel's two largest parties jockeyed to form ruling coalitions Wednesday, each claiming a mandate to govern as unofficial election results indicated a virtual tie between them.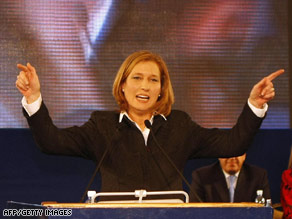 Kadima's Tzipi Livni won more support than was predicted in the Israeli elections.
With all precincts reporting and more than 99 percent of the vote counted, Foreign Minister Tzipi Livni's Kadima party was on track to win 28 seats in the 120-member Knesset, the same as it currently holds. Benjamin Netanyahu's Likud party was forecast to win 27 -- a dramatic jump from its current 12, according to Israeli media.
Yisrael Beytenu was on track to win 15 seats, up from 11 currently. Labor appeared to have slid from 18 seats to 13. A fourth-place finish would be an unprecedentedly weak showing for Labor, now led by Defense Minister Ehud Barak, who also is a former prime minister.
The results still need to be certified by the Israeli central election committee.
Livni's failure to assemble a ruling coalition for Kadima last year triggered Tuesday's elections. But she told supporters after the vote that the narrow edge Kadima appears to have held over the conservative Likud shows her party is "the common denominator of Israeli society."
Livni called on Netanyahu "to respect the choice of Israel's citizens ... and to join a unity government, led by us, that will be based on the large parties in Israel, left and right."
But Netanyahu said the strong support for Likud shows voters have rejected Kadima's leadership, and he said conservative parties could form a majority when the results are in.
"With God's help, I shall head the coming government," he said. "I am sure that I can manage to put together a good, broad-based and stable government that will be able to deal with the security crisis and the economic crisis."
"It's a typical Israeli election in that you might have two winners," Israeli political analyst Chemi Shalev told CNN. "The clear-cut winner, in the sense that she did much better than any expectations, is Tzipi Livni and Kadima. But we have to judge elections by the bottom line, and if it turns out that in the end Benjamin Netanyahu will be the the prime minister, he will be judged to have been the winner."

Watch a review of Israeli voting »
The campaign was dominated by the recent war with Palestinian militants in Gaza, which was popular within Israel despite widespread international condemnation. Netanyahu was a harsh critic of Kadima founder Ariel Sharon's 2005 withdrawal of Israeli troops and settlers from Gaza, and his supporters say he has been proven right.
Don't Miss
Livni took control of Kadima in September, when Prime Minister Ehud Olmert stepped down as the party leader amid several corruption investigations. Livni's campaign touted her role in the Gaza campaign and tough statements about not allowing Hamas to decide Israel's fate.
Netanyahu served as prime minister from 1996 to 1999. He has supported the expansion of Israeli settlements on the West Bank and has opposed further territorial concessions to end the decades-old Israeli-Palestinian conflict.
Shalev suggested a Kadima-Likud-Labor coalition is possible, but it was not clear who would lead it.
Yisrael Beytenu is led by Avigdor Lieberman, a polarizing figure whose party has been accused of racism against Palestinians and Arab citizens of Israel. But he said early Wednesday that his party "is not only the key to the next coalition, it will also set the agenda for the next government."
Likud member Reuven Rivlin, a former Knesset speaker, said voters decided "to change the ideas of the former government."

Will a new leader make any difference? »
"We have to continue the negotiations with the Palestinians, but under mutuality and under the idea that it is a give and take -- that after the agreement, we will find ourselves at peace," Rivlin said.

Israelis have become increasingly skeptical of unilateral withdrawal from Palestinian-controlled territories. After the 2005 withdrawal from Gaza, the Palestinian militant group Hamas gained control of Gaza and intensified rocket attacks on Israel, prompting the three-week conflict that ended in mid-January.
Israel's central election commission reported a turnout of about 65 percent Tuesday, despite rain and strong winds -- about 2 percentage points higher than the country's last elections, in 2006. iReport.com: See photos of the scene as voters head to the polls
E-mail to a friend

CNN's Ben Wedeman contributed to this report.
All About Israel • Tzipi Livni • Benjamin Netanyahu • Israeli Politics