By Bill Schneider
CNN Senior Political Analyst





JERUSALEM (CNN) -- "I won!" Tzipi Livni said. My party got the most votes. "Today, the people decided -- Kadima," Livni announced at a victory rally Tuesday night.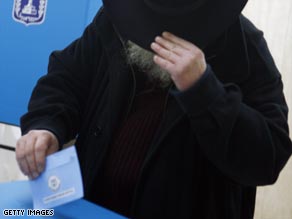 The message from Israeli voters appears to be security first but don't give up on peace.
"I won!" Benjamin Netanyahu said. My party showed the biggest gains. "In the old Knesset (parliament), the national camp had only 50 seats," the Likud party leader told his own victory rally. "Today, without a doubt, it has increased to a decisive majority."
What kind of mandate is that? The answer: a mixed mandate.
Israeli voters clearly moved to the right. The message is, security first.
"Israel trending to the right would suggest that Israelis don't think there's much of a chance for peace at the moment and we have to do out best to secure ourselves," David Horovitz, editor of the Jerusalem Post, told CNN.
Israeli voters feel as if they've tried everything.
"We tried hanging tough with Netanyahu," Horovitz said, referring to Netanyahu's period as prime minister from 1996 to 1999. "Israelis felt that we were missing opportunities for progress. So then we tried negotiations under [Labor prime minister Ehud] Barak in the Clinton era, and that didn't work."
And now? "We tried unilateralism. That now lies buried under Hezbollah's katyushas and Hamas's qassam rockets," Horovitz added. "So we're back to hanging tough again."
The election had another message as well: Israelis are not ready to give up on peace. That's why Livni's party did much better than it was expected to do.

Watch more from Bill Schneider »
She told her supporters: "We have a duty to search for and find the tiniest chance for peace."
Netanyahu acknowledges that. too. He promised his supporters "a way of hope and, with God's help, also a way of peace."
Don't Miss
Israelis say they have no partner for peace. According to former Likud cabinet minister Dan Meridor, the problem "is not the composition of the Israeli government -- it's the lack of leadership and readiness on the other side."
Is there anything Israel can do about that? Yes, many Israelis say: work with the United States to curb the influence of Iran.
"If Iran is thwarted, there is a chance you will be able to encourage reconciliation between Israel and the Palestinians," Horovitz said. "As long as Iran is emboldened on a way to nuclear capability, Hamas is strong, Hezbollah is strong, extremist elements in this region are strong and there is very little prospect of [Palestinian] moderates standing up, risking their lives and marginalizing the extremists."
Right now, Iran is at the top of the Israeli agenda. "Israelis are much more concerned about Iran than they are about the peace process," political analyst Chemi Shalev said.
Iran is the big test for Israel's new government -- and for the new U.S. administration as well.
"Israel will try to reach understandings with the Obama Administration about advancing diplomatic options," Shalev said. "But when do you decide that it hasn't worked, and what do you do in that case?"

President Barack Obama says he wants to open a dialogue with Iran. That should be fine with the new Israeli government, even if Netanyahu is the prime minister.
But the Israeli government will press for a timeline: how long will the Obama Administration allow negotiations with Iran to go on before it decides a tougher approach is needed?
E-mail to a friend

All About Israel • Tzipi Livni • Benjamin Netanyahu • Israeli Politics